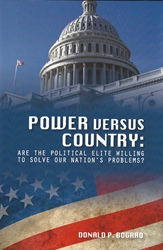 In order for Americans to turn things around, they must first educate themselves as to what is really going on in Washington and start demanding results.
Indianapolis, IN (PRWEB) June 22, 2015
Local Author Donald Bogard tackles the most pressing problems the Federal Government has failed to resolve in his latest book: Power Versus Country. The book is now available for purchase across the country via the author's website, donaldbogard.com, and Amazon.com.
Like most Americans, Donald Bogard is not satisfied with Congress's inability to address some of the country's biggest issues. In 2012, congressional approval ratings were as low as 10 percent, yet reelection rates of member of the House are typically well above 90 percent. The reality is that the American political system has created a "political elite", who is motivated by power more so than the common good. And as long as voters keep reelecting them while they fail to provide the solutions our country so desperately needs, change will never happen.
Donald Bogard dives deeply into the problems of Congressional Perks, Pork-Barrel Legislation, Illegal Immigration, and Social Security; which he deems as the most pressing and solvable issues that need to be immediately addressed before it's too late. Not only does Bogard reveal startling truths relating to each topic, more importantly, he takes a bi-partisan and well researched approach to offering the most reasonable long-term solutions for each. Congress has failed to address these issues because many of these hot-button issues because it is not in the selfish interest of politicians to deal with. In order for Americans to turn things around, they must first educate themselves as to what is really going on in Washington and start demanding results.
Every American voter can benefit by reading Bogard's book, Power Versus Country: Are The Political Elite Willing To Solve Our Nation's Problems? The author lays bare some shocking facts, large and small. For example, a path to Social Security solvency has been around—and ignored—since the 1980's; our taxpayer dollars subsidize every single ticket to the tune of $100 per flight out of the John Murtha Airport in Pennsylvania; members of Congress can be reimbursed for mileage at a higher rate than the IRS allows for the rest of us; and illegal immigrants can obtain "legitimate" citizenship documents by renting birth certificates, easily obtained from public records. Appropriate action is unlikely to ever happen until voters educate themselves as to what is really going on in Washington and begin to to support the necessary sacrifices that are needed to turn these problems around. Americans who wish to start building a better future for themselves and for the next generation, should do themselves a favor and read Power Versus Country before the next election.
*Hardcover copies of the book can be purchased for $30 via donaldbogard.com or Amazon.com
*The book is approximately 150 pages
Media Inquiries:
Interested to learn more about Power Versus Country or author Donald Bogard? Please Contact Cris Dorman or Brian Kenny at Brandrenew Public Relations. brandrenewpr.com
A PDF sample of the text can be found here. http://www.ibjbookpublishing.com/library/books/PolVSCountry.html
If you wish to receive a physical copy of the text to review, the company will do its best to send you a copy.
About the Author:
Donald Bogard has primarily been a corporate attorney throughout most of his professional career, but he has also been directly involved in local, state, and federal government for nearly eleven years. He worked for the city of Indianapolis following his graduation from law school and then worked for the state of Indiana in the attorney general's office for eight years, representing various state officials and agencies. In December 1982, he became president for the Legal Services Corporation, a federal government corporation, in Washington, D.C., and he served in that capacity for two and one-half years during the Reagan administration.
Bogard taught political science at Franklin College and the University of Indianapolis for 14 years while he continued to practice law. Bogard has a bachelor's degree in social science from Ball State University in Muncie, Indiana and, and a doctor of jurisprudence degree from the Indiana University-Indianapolis School of Law. Following law school, he returned to Ball State to obtain a master's degree in anthropology and then obtained a master of business administration degree from the University of Indianapolis.
As a lawyer, Bogard has published numerous articles in local and national journals. He has also lectured locally and throughout the United States upon matters relating to international law and dispute resolution. Bogard has a long-standing interest in government and political science, and he has participated in local and state electoral politics, serving as an election official at the local and state levels and as a candidate for statewide office.