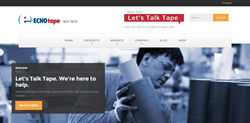 We aim to help supply these customers with performance specialty tapes to meet these demands.
CHINO, Calif. (PRWEB) June 23, 2015
ECHOtape, a leading specialty tape supplier, announced the launch of its new website, http://www.echotape.com, which features a mobile-friendly design, intuitive navigation and an all-new video highlighting how the people behind ECHOtape work hard to provide various adhesive solutions for its customers.
The site also focuses on the company's 'Let's Talk Tape' initiative - a commitment to matching customers' needs in demanding environments with the right products. For more than 40 years, ECHOtape has been focused on adhesive solutions and encourages customers to share their experiences and feedback to shape future product development in a rapidly changing manufacturing and construction market.
"This new site design complements our 'Let's Talk Tape' campaign and better reflects our mission as a company to determine and provide the ultimate solution of seaming, bonding, splicing and more," said Risa Edelstein, director of marketing at ECHOtape. "We understand that the building and manufacturing markets are constantly dealing with changing materials and we aim to help supply these customers with performance specialty tapes to meet these demands."
The site's new documentary-style video gives customers a behind-the-scenes look at the people who make ECHOtape a service-oriented operation – from the CEO to the employees in the company's warehouse. Complementing the new video and design, ECHOtape's new website will continue its "Taped" blog – a regularly updated source of insider insight, trends and business perspectives, company news and behind the scenes updates, and everything related to high-performance pressure sensitive tapes.
"Unlike other big-name suppliers, ECHOtape wants customers to know the people behind the company. Our customers get a unique chance to hear from our family of experts," said Edelstein. "We're not only obsessed with tape, but we are professionals just like our customers and look forward to shaping our entire lineup based around feedback from our 'Let's Talk Tape' campaign – something our new website easily allows."
In addition to the new features and layout, ECHOtape's revamped website will continue to showcase the company's range of specialty tape, including double coated tapes, stucco tapes, insulation tapes, splicing tapes, glazing tapes and more. Each offering is geared to the various markets ECHOtape serves including but not limited to building and construction, industrial and manufacturing, transportation, exhibition and show services, labels and printing, paper mills, and converters and corrugators.
For more information and to join the conversation on the new website, visit echotape.com.
About ECHOtape
For more than 40 years, ECHOtape has helped companies match their specific application needs with the right tape. Serving industries across North America including manufacturing, building & construction, paper mills and paper converters, ECHOtape exclusively focuses on pressure sensitive tape by bringing performance and value-wise solutions to their customers. With distribution centers across North America and an experienced technical sales team, ECHOtape continues to provide personalized service to each and every customer the same way it has since it was founded in 1973. ECHOtape remains a family-owned and operated business. To learn more about the company, call 800-461-8273 or visit http://www.echotape.com.
###
For additional information, contact:
Heather Ripley
Ripley PR
865-977-1973
hripley (at) ripleypr (dot) com