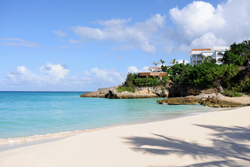 "We are thrilled to be recognized by Jettsetter as the Best Comeback, which reflects not only Malliouhana's legacy in the Caribbean, but also Auberge Resorts Collection's stylish reinterpretation of this classic resort," said John Vasatka, General Manager
Anguilla, British West Indies (PRWEB) June 19, 2015
Malliouhana, an Auberge Resort, an iconic luxury resort on the island of Anguilla, has been voted the Best Comeback by the annual 2015 Jetsetter Best of the Best Awards. The world's go-to brand for travelers with discerning taste recognized hotels that deliver outstanding experiences that are truly above the rest. The winners represent the top 1 percent of hotels on Jetsetter.com in 23 "Best" categories ranging from Boutique and Best-Looking Guests to All-Inclusive and Nightlife.
"We are thrilled to be recognized by Jettsetter as the Best Comeback, which reflects not only Malliouhana's legacy in the Caribbean, but also Auberge Resorts Collection's stylish reinterpretation of this classic resort," said John Vasatka, General Manager of Malliouhana, an Auberge Resort. "It's truly rewarding to our entire staff to be distinguished in this category as their dedication and work has allowed us to bring Malliouhana's award-winning hospitality to a new level."
An iconic resort in the Caribbean, Malliouhana is perched high atop a panoramic bluff overlooking the white sand beaches of Meads Bay and Turtle Cove on the west end of Anguilla. Following a three-year closure and 18-month top-to-bottom renovation, the 44-room hotel re-opened on November 1, 2014, exactly 30 years to the day after it first opened its doors to an international jet-setting clientele.
Jetsetter.com Editor-in-Chief Sean Murphy said, "All of the hotels on Jetsetter are special in some way, but in order to celebrate those properties that go above and beyond, we created the Best-of-the-Best Awards. At Jetsetter we understand that travel choices are personal. The award categories reflect the variety of things our members' value in a hotel. We relish this time of year, when we get to dive in and explore the many reasons why we love to travel, and celebrate those who make it better."
In selecting the winners, the Jetsetter editorial team and more than 200 of its global travel correspondents compiled their suggestions along with those from the rest of the Jetsetter team.
A final committee of senior-level editors then debated and narrowed down the list based on each category's criteria, selecting one winner and two runner-ups in each category. All of the hotels on the final list encapsulate the exceptional experiences Jetsetter members have come to expect from properties on the site.
For reservations or more information about Malliouhana, please call 1-866-282-3743 or visit http://malliouhana.aubergeresorts.com.
About Auberge Resorts
Auberge Resorts is a collection of exceptional hotels, resorts and private clubs, each with a unique personality that assures a memorable guest experience. While Auberge Resorts nurtures the individuality of each establishment, all are characterized by a set of communal elements: intimate, understated elegance; captivating locations that inspire exceptional cuisine and spa experiences; and gracious yet unobtrusive service. Among the Auberge collection of distinctive properties are: Auberge du Soleil, Napa Valley, Calif.; Calistoga Ranch, Napa Valley, Calif.; Solage Calistoga, Napa Valley, Calif; Esperanza, Cabo San Lucas, Mexico; Hotel Jerome, Aspen, Colo.; the Malliouhana Hotel & Spa, Anguilla; and The Auberge Residences at Element 52, Telluride, Colo., and Pronghorn Resort, Bend, Ore., with several others currently in development. For more information about Auberge Resorts, please visit http://www.aubergeresorts.com/. Follow Auberge Resorts on Facebook at facebook.com/AubergeResorts and on Twitter at @AubergeResorts.
About Jetsetter
Jetsetter.com provides insider deals, unique experiences and thoughtful insights to its more than 23 million members, allowing them to book with ease and confidence wherever and whenever they choose. From hotels to tours to trip planning, Jetsetter is designed to match discerning travelers with their ideal travel experience. Each property featured is hand-selected by a team of curators and by Jetsetter's global network of correspondents. Jetsetters can browse limited-time sales of up to 40% off, peruse the Jetsetter permanent collection of more than 2,500 hotels and resorts available 365 days a year, or book same-day stays through Jetsetter Now, available on the Jetsetter iPhone and iPad app. Members can tap into the regional expertise of Jetsetter correspondents with private consultations through the Personal Travel Planning service or personalize deluxe tours with the Jetsetter Journeys program. For more information, visit http://www.jetsetter.com.
MEDIA CONTACTS: Lisa Goldstein / Stacy Lewis
Murphy O'Brien, Inc.
310.586.7150 / 310.586.7164
lgoldstein(at)murphyobrien.com / slewis(at)murphyobrien.com