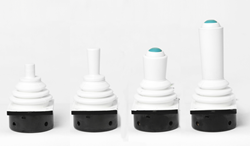 CTI' new Medical Joysticks have an impermeable molecular barrier protection against bio-hazardous agents.
STRATFORD, CONNECTICUT (PRWEB) July 01, 2015
NEMA 4 (IP66) Medical Joysticks can be easily disinfected or sterilized to combat pathogen transmission. CTI' new Medical Joysticks have an impermeable molecular barrier protection against bio-hazardous agents. Original Equipment Manufacturers (OEMs) of medical devices now have an operator control device that will increase healthcare worker safety and reduce financial costs.
CTI Electronics announces a new line of parylene coated Medical Joysticks that withstand repeated hygienic cleaning, disinfection, or sterilization. These Medical Joysticks are designed with the purpose of reducing the spread of infectious diseases to humans within medical facilities. Its goal is a healthier and safer environment for clinicians and its patients.
The Medical Joystick is offered to OEMs as an open frame component to be integrated into a medical device. When installed, the Medical Joystick ensures a NEMA 4 (IP66) watertight sealing rating. Communication interfaces include voltage signal for motion control or digital signal acting as either a USB Medical Mouse or USB Game Control device for Software Application Developers. Device control across extended distances is implemented via RS-232, RS-422, or RS-485 signaling. Parylene coating of the joystick knob, boot, and elastomer switchpad ensures the toughest molecular barrier protection. The Medical Joystick is designed for long-term durability, 10+ million cycles, 100,000+ hours, an expected 10+ year life of reliable service and worry free maintenance.
CTI' Medical Joysticks are compliant with international regulations and standards including IEC 60601-1, CE, RoHS, and REACH. The molecular barrier protection of CTI' Medical Joysticks are a superior solution for OEMs of medical and cleanroom equipment. Ideally suited for medical and care giving facilities such as hospital emergency rooms, surgical operating rooms, intensive care units, dental offices, and assisted living centers. Additionally, cleanroom environments such as semiconductor, biotechnology, and pharmaceutical laboratories, as well as food processing and aerospace manufacturing facilities will benefit.
About CTI
CTI Electronics Corporation is a leading U.S.A. manufacturer of rugged industrial computer peripherals. Products range from keyboards, joysticks, trackballs, to switches used as operator input devices, mouse pointers, or motion control devices. Designed to operate in extreme temperature ranges (-40oC to +80oC) while under harsh conditions these devices offer a NEMA 4 (IP66) watertight sealing. The commercial off the shelf human machine interface solutions can be customized to the original equipment manufacturer or systems integrator build to print specifications. For additional information, visit http://www.ctielectronics.com or call 203-386-9779.
Author: Paul Krischlunas, sales(at)ctielectronics(dot)com