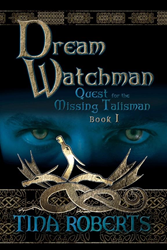 "We are thrilled to announce the release of this powerful adventure that begins an imaginative new book series." - Robert Fletcher, CEO of Strategic Book Publishing and Rights Agency
(PRWEB) June 25, 2015
The epic saga "Dream Watchman: Quest for the Missing Talisman Book I" is the first fantasy novel in a trilogy by author Tina Roberts, and it will prove an unforgettable read for all ages.
The award-winning author lives in Texas, where she has held book signings in Dallas, Houston, Abilene, and Austin, as well as in such widespread locations as New York, Cleveland, and Los Angeles. Roberts has donated books to Dallas area schools and has also made presentations to Dallas teens. She has been the featured author at Gite Gallery in Houston, which was voted the Best Art Gallery by Houston Press magazine.
Starting in present-day Los Angeles, her story travels back to the 17th-century world of warlocks and sorcerers, to an island of wickedness and deception in the Black Sea called the Jeweled City. This magical kingdom first appears on the night of Emily Rollins' 30th birthday, when a family curse, buried over 200 years in Liberty County, Texas, resurfaces in California. After Emily is contacted by the warlock king, known as the Dream Watchman, the drama begins. The king is on a bloodthirsty quest to find a talisman that has eluded him for over five centuries. With its power, the Dream Watchman can defeat the God of Light and control the world. Little does Emily know she will be at the center of this continuing drama when all hell breaks loose.
About the Author: Tina Roberts realized at age 10 that she wanted to be a writer. Today, she says it is her "purpose, transportation, and calling in life." Roberts holds a B.S. in business administration and management, and an M.M. in management. She works in geosciences for the oil industry and has previously worked in music, radio, television, and film. A native Texan, she lived for a number of years in Los Angeles, and now resides in Plano, Texas. The author is currently writing the sequel "Dream Watchman: Rise of the Three-Headed Dragon."
"We are thrilled to announce the release of this powerful adventure that begins an imaginative new book series," said Robert Fletcher, CEO of Strategic Book Publishing and Rights Agency.
Watch the video book trailer at: http://www.youtube.com/watch?v=Zo5ugZ8jbu8
DREAM WATCHMAN: QUEST FOR THE MISSING TALISMAN BOOK I (ISBN: 978-1-60976-636-8) is now available for $15.95 and can be ordered through the publisher's website:
http://sbpra.com/TinaRoberts or at http://www.amazon.com or http://www.barnesandnoble.com.
WHOLESALERS: This book is distributed by Ingram Books and other wholesale distributors. Contact your representative with the ISBN for purchase. Wholesale purchase for retailers, universities, libraries, and other organizations is also available through the publisher; please email bookorder(at)sbpra(dot)net.