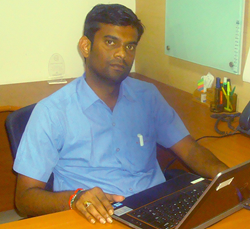 Praburaman brings a wealth of quality and management experience which will significantly enhance our knowledge base and enable our quality systems to reach the highest level. -Jacob Prak, MMI CEO
Stevensville, Maryland (PRWEB) June 23, 2015
Michigan Manufacturing International (MMI) is pleased to announce that Praburaman Rengaramanujam was recently named Global Quality Manager. In this role, he will be responsible for quality systems at all MMI locations.
Praburaman has 14 years of experience in the quality assurance industry and specializes in quality management systems, measurement system analysis, and statistical process control. Previously Praburaman was the Quality Manager at Modine Thermal Systems. He holds a Master of Science in Quality Management and is a qualified internal auditor for ISO9001:2008.
Praburaman commented on his vision as the Global Quality Manager, saying, "My ultimate goal is to satisfy 100% of MMI customers. This can be achieved through managing the company's quality systems effectively."
MMI CEO Jacob Prak said, "I am very pleased to have Praburaman join our firm. He brings a wealth of quality and management experience which will significantly enhance our knowledge base and enable our quality systems to reach the highest level."
Founded in 1991, Michigan Manufacturing International (MMI) specializes in supplying manufactured to print assemblies and components to original equipment manufacturers (OEM). Products include assemblies, castings, stampings, machined parts, gears, bearings and more. Services include product engineering, manufacturing, inventory management and stocking programs — all designed to streamline client operations and increase profitability. MMI designs the most effective, highest quality solutions from anywhere in the world.
For more information about MMI, visit http://www.michmfg.com or call 800-677-0504.