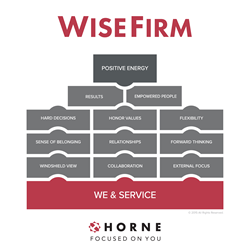 RIDGELAND, Miss. (PRWEB) June 23, 2015
Today, HORNE LLP impacts clients with the launch of http://www.hornellp.com, a site built to help navigate the challenges of growth, regulatory compliance and risk mitigation. HORNE's new website demonstrates the team's commitment to go beyond traditional accounting services, steering clients through the uncertainties and opportunities ahead with foresight and straight talk.
For those working in banking, construction, franchise, government, health care, and the public and middle market, they'll discover a wealth of engaging content to help them better serve their own clients. Those interested in wealth advisory will find a personalized path of investment management and wealth planning.
"The site's revamp is meant to deliver the online experience the same way we deliver our services—in an engaged, relevant and collaborative environment," said HORNE Marketing Director Bruce Walt.
Also, clients and prospects can now experience the interactive demonstration of the firm's culture, the Wise Firm. This is a differentiator among firms for clients and future team members. The Wise Firm serves as a roadmap outlining the specific building blocks required to create the great culture the firm envisions. Build the Wise Firm at http://www.wisefirm.com.
Easy navigation means a user can find who or what they're looking for with ease, avoiding the information that does not apply to them. Clients and prospects alike will find the HORNE team's point of view relative to their specific industry via blogs, video and other resources. Engage today at http://www.hornellp.com.
About HORNE
HORNE is a decidedly different CPA and business advisory firm that is changing expectations about accounting. HORNE goes beyond traditional accounting to steer clients through uncertainties and opportunities. We focus our knowledge and experience in banking, construction, franchise, government services, healthcare and public and middle market. HORNE Wealth Advisors is a fiduciary partner to high net worth individuals. Visit us at hornellp.com.