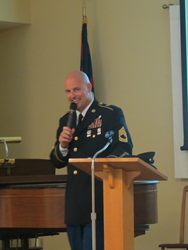 Thomasville, North Carolina (PRWEB) June 24, 2015
Piedmont Crossing recently hosted a presentation featuring a Bronze Star and Purple Heart recipient shared his compelling story. Mur DeJonge, an employee at the retirement community, provided details of his experience with war and combat. DeJonge's recollection of split-second decision making and his demonstration of true bravery captivated the audience.
Coming from a patriotic family, DeJonge chose to enlist in the Army in 1986. His story begins there and journeys life as a serviceman - Reserves, Special Operations Arabic Translator, Senior Staff Sergeant and more. DeJonge's efforts protecting our great country merited him the honor of the Bronze Star, awarded to members of the US Armed Forces for acts of heroism, meritorious achievement or meritorious service in a combat zone and the honor of the Purple Heart, the oldest military decoration awarded in the name of the President to those wounded or killed, while serving, in the US military.
Dejonge will present again at Abernethy Laurels Retirement Community in Newton, NC on Monday, August 3 at 4pm. The public is invited to attend. Reservations for this presentation can be made by calling 828-465-8519.
Piedmont Crossing, a not-for-profit retirement community located on 61 beautiful acres in Thomasville, NC offers casual, comfortable cottages, town homes, and apartments as well as a variety of services. For more information on Piedmont Crossing visit http://www.piedmontcrossing.org or contact Blair White, Marketing Director, at 336-474-3605.