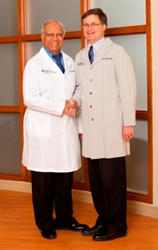 "I have been blessed to have had the opportunity to help guide the clinical operations at Marianjoy for the last ten years, and I know the future is in capable hands under Dr. Oken's leadership."
Wheaton Illinois (PRWEB) June 25, 2015
Physiatrist Dr. Jeffrey Oken has been appointed the Vice President of Medical Affairs at Marianjoy Rehabilitation Hospital. The former vice president, Dr. Noel Rao, has stepped down from the position, but will remain Director of the Medical Residency Program.
Says Dr. Rao, "I have been blessed to have had the opportunity to help guide the clinical operations at Marianjoy for the last ten years, and I know the future is in capable hands under Dr. Oken's leadership."
Dr. Oken has been a staff physiatrist in Physical Medicine and Rehabilitation of the Marianjoy Medical Group since 1991, specializing in pain and spinal cord treatments. During his tenure, he has served in a variety of clinical and leadership positions, including his role as Medical Director of the Marianjoy Subacute InteRehab Program; the Outpatient Pain Program at Oakbrook Terrace; Associate Medical Director; president of Medical Staff. Dr. Oken has been instrumental in developing and maintaining important external relationships with local acute-care facilities, such as Loyola University Medical Center and Advocate Good Samaritan Hospital, serving as Medical Director of Physical Medicine and Rehabilitation at both facilities.
Dr. Oken has held professorship positions and has conducted research on chronic pain and spinal cord injury.
In reflecting on his new role, Dr. Oken notes, "I look forward to carrying on the commitment to quality and the best patient outcomes established by my friend and mentor, Dr. Noel Rao."
Marianjoy Rehabilitation Hospital is a nonprofit teaching hospital in Wheaton, Illinois, dedicated to the delivery of Physical Medicine and Rehabilitation programs, including stroke, neuromuscular, orthopedic, brain injury, spinal cord injury, and pediatrics. Founded in 1972, Marianjoy Rehabilitation Hospital maintains an extensive network of inpatient, subacute, and outpatient sites, as well as physician clinics throughout the Chicago area. Marianjoy is a member of Wheaton Franciscan Healthcare.