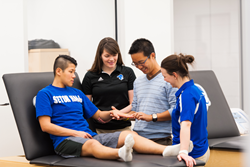 South Orange, NJ (PRWEB) July 06, 2015
Students pursuing degrees in Athletic Training will soon face new requirements set forth by the National Athletic Training Strategic Alliance. Under the new requirements, students will have to earn a master's degree before they can become certified Athletic Trainers. Seton Hall University is ready to meet the demand for advanced degrees in this field. With the only entry-level Master of Sciences in Athletic Training (MSAT) program in New Jersey, the University is the top choice for aspiring athletic trainers looking to meet the new requirements in an established MSAT program.
"Our program has been accredited at the graduate level for 12 years. As the educational requirements change to reflect the level of a master's degree, we look forward to maintaining our role as leaders in preparing students to become professional athletic trainers," said Carolyn Goeckel, MA, ATC, Chair of the Department of Athletic Training in the School of Health and Medical Sciences at Seton Hall University. "With a focus on the 'team approach' to patient care, graduate-level education prepares athletic training students to enter the workforce with the experience necessary to succeed in today's interprofessional healthcare environment. The transition of athletic training education to a graduate-level degree positions the profession well, now and into the future."
The Seton Hall MSAT program has been accredited by CAATE since 2003, which is of significant interest to prospective students looking for an established master's degree program to prepare them to become Certified Athletic Trainers under this new national requirement. The Seton Hall MSAT, which also offers an accelerated dual-degree route for high school students entering college, is the only CAATE-accredited entry-level master's program in New Jersey.
According to the U.S. Bureau of Labor Statistics' Occupational Outlook Handbook, employment of athletic trainers is expected to grow by 19% from 2012–2022. "People are much more aware of injuries related to sports and other physical activities, so the demand for athletic trainers is increasing," Goeckel said.
Currently, individuals with a bachelor's degree can sit for the national Board of Certification (BOC) exam, which one must pass in order to practice as a professional athletic trainer in New Jersey and most states. When the approved changes are fully implemented, individuals will need to have completed a master's degree program in order to take the BOC exam. According to the joint statement from the Athletic Training Strategic Alliance, this move will "best prepare athletic trainers for an integral role in the evolving health care system".
Interested Students: Request more information about the Seton Hall MSAT program and its dual-degree program for high school students entering college.
Facts about the Seton Hall University Master of Science in Athletic Training Program:

Seton Hall alumni work for the NFL's Cleveland Browns, New York Jets, New England Patriots and Kansas City Chiefs; Cirque du Soleil and the Harkness Center for Dance Injuries at NYU Langone Medical Center; Boston College, Indiana University, Princeton University, Rutgers University, Seton Hall University and the University of Pittsburgh; and many public and private high schools.
100% of graduates were hired upon graduating.
100% of students passed the Board of Certification exam.
The five-year, undergraduate-to-graduate dual-degree option is a way for students to save time and money while earning the MSAT degree.
Additional Resources:

http://www.shu.edu/setonhallAT – video, brochure, alumni profiles and other resources about the Seton Hall University MSAT program
MSAT program homepage
Five-year dual-degree program information