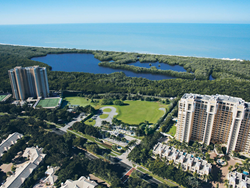 Naples, FL (PRWEB) June 24, 2015
Gulf Bay Marketing Group has selected Premier Sotheby's International Realty as the exclusive listing agent for Mystique, the new ultra-luxury high rise in the exclusive Pelican Bay community in Naples.
The 21-story Mystique will feature 81 distinctive residences on one of only two remaining developable land parcels in Naples between The Ritz-Carlton on the beach and Port Royal.
Under the direction of Aubrey J. Ferrao, who founded Gulf Bay Group of Companies in 1986, Gulf Bay has successfully completed 14 luxury properties along a 1.5-mile stretch of Gulf-front land within Pelican Bay.
"Mystique will be the first new ultra-luxury high rise in Pelican Bay in more than a decade," said Ferrao. "We wanted this unique offering to be represented by a broker with notable success selling luxury, high rise residences, and Premier Sotheby's experience is unsurpassed."
Judy Green, president and CEO of Premier Sotheby's International Realty, said, "Our company's extensive history in representing Southwest Florida's most luxurious properties, coupled with our global network, will introduce Mystique to potential homebuyers around the world. Naples is a highly sought-after location, and Mystique's Gulf-front location is unrivaled."
Reservations for Mystique are expected to begin immediately. Construction of a new onsite sales center will begin in the next few months and, upon completion later this fall, will serve as the base of operations for the Mystique sales team.
The developer for Mystique is Pelican 1 Owner, LLC, an equal partnership between an affiliate of the global investment firm Kohlberg Kravis Roberts & Co. and an affiliate of the Gulf Bay Group of Companies.
In addition to its history in Pelican Bay, Gulf Bay's other award-winning developments include The Brittany on Park Shore Beach; Marco Beach Ocean Resort on Marco Island; and the 4,000-acre award-winning, master-planned community of Fiddler's Creek. The Gulf Bay Group of Companies' completed and under development build-out value of luxury residential properties is estimated in excess of $5 billion.
Headquartered in Naples, Premier Sotheby's International Realty has approximately 800 associates and employees in 25 locations along Florida's Gulf Coast and in the Carolinas. In 2014, the annual Real Trends 500 survey ranked the firm number 37 in its survey of the top U.S. residential sellers. Premier Sotheby's International Realty also benefits from an association with the storied Sotheby's auction house, established in 1744.