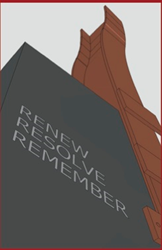 "This memorial will be dedicated to all members of the military, veterans, first responders, and citizens of the United States that were affected by the events of Sept. 11, 2001"
Doylestown, PA (PRWEB) June 30, 2015
Official groundbreaking for the "Renew. Resolve. Remember." 9/11 Memorial sculpture, which is incorporating an I-beam from the World Trade Center, has been scheduled for Wednesday July 1st, 2015, at 2:30pm EST. This sculpture is being gifted to Bucks County by the Travis Manion Foundation, and will be located at the newly opened Justice Center in Doylestown, PA. The sculpture is a testament to the resiliency of the American spirit and honors all who have been affected by the events of 9/11/2001.
Present for the ceremony will be Bucks County Commissioners Robert Loughery, Diane Ellis-Marseglia, and Charles Martin; Artist Alan Goldstein; and Travis Manion Foundation President Ryan Manion Borek. In 2009 Ryan's late mother Janet, (founder of the Travis Manion Foundation) pursued bringing a piece of our collective history home to Bucks County when she applied for an artifact from the World Trade Center. The Travis Manion Foundation was awarded a 20 foot, 2 ton I-beam from the Twin Towers, and sought to create a public memorial that symbolized the resilient spirit of America, which will come to fruition on 9/11/2015 when the sculpture is scheduled to be complete.
The Travis Manion Foundation is looking to collect donations towards the funding of this memorial, as they are still approximately $75,000 short of their goal, and asking for help from the public. Donor recognition opportunities have been made available, and anyone who would like to donate or learn more information can visit: http://www.travismanion.org/911memorial
About Travis Manion Foundation
The Travis Manion Foundation is a 501(c)3, founded shortly after the death of 1st Lt. Travis Manion in Iraq on April 29, 2007 by the fallen Marine's mother, the late Janet Manion. Her goal was to empower our nation's veterans and support other family members of the fallen, to ensure that our nation's heroes are never forgotten. The powerful words Travis spoke before leaving for his second and final deployment to Iraq – "If Not Me, Then Who..." – have inspired a national movement that is growing rapidly. The Foundation challenges veterans, families of the fallen, and the next generation of young leaders to join the "If Not Me, Then Who…" movement, and inspires others to continue the service to community and country exemplified by the nation's fallen heroes.