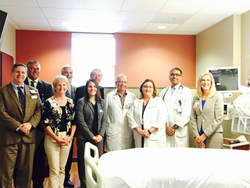 Our patients are receiving the best recommended standard of medical care available with the collaboration between their doctor, the hospital critical care team and the remote telemonitoring of Advanced ICU Care
(PRWEB) June 24, 2015
Florida Hospital Carrollwood is using telemedicine to provide additional care to critically ill patients. The hospital has successfully implemented one of the most advanced critical care telemedicine programs available in hospital ICU's.
This now enables the hospital to provide an extra layer of care that enhances patient safety, by utilizing highly trained intensivists and critical care nurses from Advanced ICU Care®, the nation's largest provider of Tele-ICU services. This program allows additional monitoring twenty-four hours a day, seven days a week.
Florida Hospital Carrollwood is one of the first hospitals in the area to partner with Advanced ICU Care in implementing such a program, and to meet the best practice standard of having intensivist physicians monitor ICU patients around-the-clock.
"Our patients are receiving the best recommended standard of medical care available with the collaboration between their doctor, the hospital critical care team and the remote telemonitoring of Advanced ICU Care," said Joe Johnson, President and CEO of Florida Hospital Carrollwood.
Advanced ICU Care's team complements the care provided by Florida Hospital Carrollwood physicians, continuously monitoring patients' vital signs, medications, labs and clinical status. Proactive data management tools identify issues, prompting immediate intervention. Two-way video access in each patient's room enables face-to-face consultations between the bedside and Advanced ICU Care team during periods of evaluation or when called on by the caregiver.
"We are pleased to partner with the physicians and clinicians at Florida Hospital Carrollwood to provide additional clinical surveillance and support of their critically ill patients," said Mary Jo Gorman, MD, MBA, founder of Advanced ICU Care. "This strong alliance of critical care expertise combined with the most advanced telemedicine technology plus programs to continually improve care is working together to benefit and improve the health and safety of these patients."
"The Advanced ICU Care team serves as an extra layer of care that reassures us that our sickest patients are vigilantly monitored when we are not present. There is a deep sense of confidence knowing that emerging issues are dealt with immediately, and patients are receiving the highest level of care at a moment's notice," said Brad Bjornstad, M.D., Chief Medical Officer at Florida Hospital Carrollwood.
About Florida Hospital Carrollwood
Florida Hospital Carrollwood is a 120-bed facility that specializes in providing comprehensive medical services to community residents in the northern Tampa Bay region. A member of the West Florida Region of Florida Hospital and Adventist Health System, the hospital offers exceptional surgical, ER and Wound Healing services in an environment focused on Christian compassion and whole-person health and healing. The hospital has also achieved several firsts in the region, including the development of a state-of-the-art Spine Center of Excellence, utilizing the Mazor Renaissance™ Spine Robot, as well as achieving the notable HIMSS Level 7 designation for the facility's dedication to electronic systems and patient safety. For more information, please visit fhcarrollwood.org.
About Advanced ICU Care
Advanced ICU Care offers comprehensive Tele-ICU programs and consulting services, with a proven track record of improving the clinical, financial and operational performance of its hospital partners. As the nation's largest Tele-ICU provider, Advanced ICU Care has successfully implemented and managed more programs than any other organization. Our Tele-ICU programs combine experienced intensivist-led care teams, sophisticated telemedicine technology and a rigorous focus on evidence-based best practices to improve patient care and safety. Our consulting team brings insights gained from decades of nationally recognized ICU leadership and expertise in both bedside ICU and Tele-ICU environments. For more information, visit http://www.icumedicine.com.