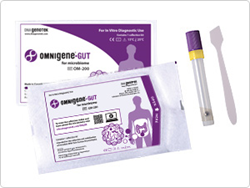 With the support of the DNA Genotek grant, we hope to generate meaningful results very quickly.
Ottawa, ON (PRWEB) June 26, 2015
DNA Genotek, a leading provider of sample collection kits and end-to-end services and a subsidiary of OraSure Technologies, Inc. (Nasdaq: OSUR) today announced that it has awarded grants to three organizations that are undertaking innovative microbiome research, as part of its Gut Microbiome Grant Program. The company has awarded its OMNIgene®•GUT fecal/stool collection kits and GenoFIND services to each winner to execute their research.
DNA Genotek established its Gut Microbiome Grant Program to help organizations pilot programs that will enable scalability and reproducibility in metagenomic research. Particular emphasis is placed on cutting-edge projects that have the ability to demonstrate proof-of-concept results in the emerging microbiome field. More than 200 organizations submitted proposals, of which the top three were selected to receive grants.
"The large number of applications we received sends a strong message. The interest in the scientific community is very high and our grant program clearly meets a need in advancing metagenomics research," said Brian Smith, General Manager, Genomics and Microbiome. "DNA Genotek is committed to fostering innovation in this important field as we develop and commercialize new products and services aimed at accelerating microbiome discovery. With this group of recipients, we have identified highly translatable research and incredibly novel uses of our technology."
The grant recipients are:

Dr. Brinda Rana, University of California, San Diego, USA – Microbial Signatures of Aging: A Twin Study
Dr. Zongqi Xia, Brigham and Women's Hospital, Boston, USA – Interrogating the gut microbiota community in the early stage of multiple sclerosis
Dr. Lena Kirchner Brahe, University of Copenhagen, Denmark, Copenhagen – Effect of a low FODMAP diet on gut microbiota, inflammation and gastrointestinal symptoms in patients with colitis ulcerosa
"We are excited to have the opportunity to pilot OMNIgene•GUT," said Dr. Zongqi Xia of Brigham and Women's Hospital. "While we have learned much about the genetic and environmental risk factors that contribute to the onset of multiple sclerosis, there is much to be explained. Integrating microbiome profile data into our well-characterized prospective cohort of at risk population represents a great opportunity to gain insights into the cause of this neurological disease. With the support of the DNA Genotek grant, we hope to generate meaningful results very quickly."
At this time, OMNIgene•GUT is for research use only applications.
About DNA Genotek
DNA Genotek Inc., a subsidiary of OraSure Technologies, Inc. (NASDAQ: OSUR), focuses on sample collection kits and end-to-end services for human genomics, microbiome and infectious disease. The company's Oragene®•Dx product line is the only U.S. FDA 510(k) cleared saliva-based collection kit for in vitro diagnostic use. DNA Genotek also offers Research Use Only products to collect and preserve large amounts of DNA or RNA from multiple sample types for use with humans, animals or livestock. The reliability and ease-of-use of the company's products have resulted in rapid adoption at top-tier health research institutions globally, including Harvard, Stanford, Cambridge, and Johns Hopkins. DNA Genotek markets its products worldwide and has a global customer base with thousands of customers in over 100 countries. For more information about DNA Genotek, visit http://www.dnagenotek.com
® OMNIgene and Oragene are registered trademarks of DNA Genotek Inc. All other brands and names contained herein are the property of their respective owners. Some DNA Genotek products may not be available in all geographic regions.