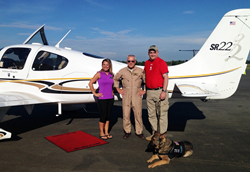 "Even as Corporal Cannon fights for his life, he told us he would do it all again for the love of his country," said Goodwill director of the Veterans Services Program C.J. Bannister.
Sarasota, Florida (PRWEB) June 26, 2015
On June 24, two area veterans participated in a Veterans Airlift Command mission to get a sick veteran and his new service dog home. Army veteran Colonel Ben Knisely, who serves as the military-veterans liaison officer for the Sarasota Sheriff's Department and is also a member of Goodwill Manasota's Veterans Task Force, and Air Force veteran C.J. Bannister, who earned the rank of Staff Sergeant and is Goodwill Manasota's director of the Veterans Services Program, flew from Dolphin Aviation in Sarasota to the Ocala International Airport to pick up Army Corporal Thomas Cannon and his new service dog, Camo. Knisely and Bannister then transported Cannon to Macon, Ga., the first leg of his trip back home to Allentown, Pa.
Veterans Airlift Command (VAC) is a national nonprofit that provides free air transportation to post 9/11 combat wounded and their families for medical and other compassionate purposes through a national network of corporate and individual volunteer aircraft owners and pilots. Knisely is a volunteer with VAC - he has volunteered to fly wounded or sick veterans in his Cirrus 22 single engine plane for four VAC missions so far.
Army Corporal Thomas Cannon, who was deployed to Iraq in 2011, was diagnosed with stage 3 non-Hodgkin's Lymphoma and pulmonary fibrosis - 18 other men in his unit also developed cancer, which Cannon says was caused by a red paint that was sprayed daily by the enemy for months on end while in Iraq. Cannon was in remission but is now in stage 4. He was accepted to receive a medical service dog, named Camo, from Guardian Angels in Williston, Fla., where the pair just underwent training together.
COL Knisely was an Army Medivac helicopter pilot who was shot down in Vietnam, survived four days on the ground -- with a broken leg and other injuries -- and was one of only two found alive through a special rescue effort. He feels fortunate to be alive today and is happy to give back through his volunteer efforts with VAC. His last mission was flying a young soldier -- who had lost a leg during his service -- who was visiting family on Longboat Key home to South Carolina.
SSgt Bannister served as co-pilot and mission assistant for this mission. She is a veteran of the U.S. Air Force who now, through her work with Goodwill, helps to provide services to returning veterans, who face heightened risks of unemployment, personal problems, and homelessness.
"I was honored to be invited to help this man on his journey home," said Bannister. "Even as Corporal Cannon fights for his life, he told us he would do it all again for the love of his country. He is a credit to our Armed Services and to our country."