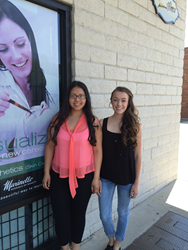 "Through our Raw Talent Scholarship competition, our hope is to enable promising high school seniors to pursue a career in beauty by providing the education, resources and tools they need for success." - Karyn Laitis, VP of Education
Whittier, California (PRWEB) July 01, 2015
Marinello Schools of Beauty, one of the oldest and most well-regarded beauty and wellness schools in the country, recently wrapped up its 7th Annual Raw Talent Scholarship competition, providing outstanding high school seniors with remarkable talent the opportunity for an education at Marinello and the ability to pursue a dream career in the exciting and lucrative beauty industry. Marinello awarded a total of 21 scholarships throughout 59 campuses, valued at $86,000 combined. One grand prize covering full tuition, books and training kit was awarded to Angeles Nunez at the Marinello campus in Redding, CA. Additionally, applicants in each of Marinello's ten regions had the chance to win a first place $4,000 scholarship, a second place $3,000 scholarship (cosponsored by Wella and Sebastian) or a third place $1,000 scholarship.
"Marinello Schools of Beauty has a long-standing commitment to our local communities, and investing in our highly talented youth is a vital step in helping to make their dreams a reality," said Marinello Schools of Beauty Vice President of Education Karyn Laitis. "Through our Raw Talent Scholarship competition, our hope is to enable promising high school seniors to pursue a career in beauty by providing the education, resources and tools they need for success."
To enter the 7th Annual Raw Talent Scholarship competition, candidates were required to participate in a hands-on competition where they created hair and makeup looks on their own models at their local Marinello campus. The Marinello school directors took "before" and "after" photographs of all participants' work and submitted them to Regional and Corporate Scholarship Committees for review and judging. To view the full list of winners, visit https://www.marinello.com/highschoolscholarship/.
To be eligible for the award, recipients who accepted the Raw Talent Scholarship must start a Marinello program by September 2015 and maintain academic and attendance criteria that all Marinello students are responsible for meeting.
For more information about Marinello Schools of Beauty and the Raw Talent Scholarship, call 562-945-2211 ext. 9204 or visit us online at http://www.marinello.com.
###
Celebrating its 110th anniversary this year, Marinello is one of the oldest and most well-regarded beauty and wellness schools in the country. With 59 campuses in California, Connecticut, Kansas, Massachusetts, Nevada, and Utah, Marinello offers a variety of cosmetology, barbering and esthetics programs. The company has developed a proprietary education system called the Marinello Method, which combines theory and hands-on instruction with multi-media demonstrations. Students also gain hands-on experience practicing their new skills and techniques under the supervision of instructors in Marinello's student clinics.