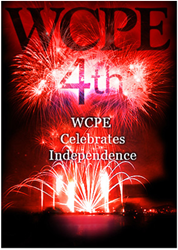 We'll play lots of patriotic selections on the Fourth to celebrate the birth of our country.
Wake Forest, N.C. (PRWEB) June 26, 2015
WCPE FM Celebrates Independence Day
TheClassicalStation.org Features American Music
WCPE Music Director William Woltz announces an Americana Weekend to celebrate the 4th of July, July 3-5, 2015. Listen for music from U.S. composers and performers, both native and adopted.
"Our extended holiday weekend observance begins Friday, July 3, and features great U.S. composers, orchestras and soloists," says Woltz. "We'll play lots of patriotic selections on the Fourth to celebrate the birth of our country."
Highlights of the celebration:
3 Friday
8:00 a.m. Copland: "An Outdoor Overture"
9:00 a.m. Dvorˇák: American Suite
10:00 a.m. Hailstork: Three Spirituals
12:00 p.m. Gould: "Amber Waves"
1:00 p.m. Barber: Adagio for Strings
2:00 p.m. Still: Symphony no. 1 (Afro-American)
3:00 p.m. Gershwin: An American in Paris
5:00 p.m. Sousa: "Semper Fidelis"
7:00 p.m. Amram: This Land, Symphonic Variations on a Song by Woody Guthrie
8:00 p.m. Copland: Four Dance Episodes from Rodeo
9:00 p.m. Tchaikovsky: 1812 Overture
4 Saturday
8:00 a.m. Bernstein: "Make Our Garden Grow" from Candide
9:00 a.m. O'Connor: Fanfare for the Volunteer
10:00 a.m. Sousa: "Manhattan Beach," "El Capitan," "The Stars and Stripes Forever"
12:00 p.m. Buck: Festival Overture on the "Star Spangled Banner"
1:00 p.m. Copland: Appalachian Spring
2:00 p.m. Gershwin: Rhapsody in Blue
3:00 p.m. Mizesko: Sketches from Pinehurst
4:00 p.m. Dvorˇák: Symphony no. 9 in E Minor (From the New World)
5:00 p.m. Williams: "Summon the Heroes"
5 Sunday
7:00 a.m. Thompson: "Alleluia"
11:00 a.m. Chadwick: Symphonic Sketches
12:00 p.m. Grofé: Grand Canyon Suite
1:00 p.m. Williams: "Liberty Fanfare"
2:00 p.m. Bernstein, arr. Penaforte: West Side Story Suite for Piano Trio
3:00 p.m. Hanson: Symphony no. 2 (Romantic)
4:00 p.m. Copland: Billy the Kid Ballet Suite
5:00 p.m. Dvorˇák: String Quartet no. 12 in F (American)
Request your favorite American music at the Saturday Evening Request Program.
WCPE's 24/7 live broadcast of Great Classical Music, 24 Hours A Day can be accessed by military and foreign service personnel around the globe in several ways; on-line streaming in multiple formats, including IPv6, small dish home satellite reception, local cable television systems and traditional radio broadcasting. A complete list of the ways WCPE is available with instructions for cable and satellite reception can be found at: http://theclassicalstation.org/listen.shtml.
About WCPE:
WCPE broadcasts on a variety of FM frequencies in Eastern North Carolina and is heard throughout Eastern and Central North Carolina and Southern Virginia from its transmitting tower in Wake Forest, NC and other repeater stations. A live feed is also available on the Internet at http://www.theclassicalstation.org, cable systems, affiliate radio stations and via satellite. WCPE is a non-commercial, listener-supported station that plays classical music exclusively. WCPE is owned and operated by the Educational Information Corporation, a North Carolina non-profit broadcasting organization. The Corporation was formed in 1973 and began operating WCPE in July of 1978. The Corporation holds a federal 501 (C) (3) Public Charity Exemption Certificate and the corresponding certificate from the State of North Carolina.
# # #
Media Contact:
Curtis Brothers
919.556.5178
curtis(at)TheClassicalStation(dot)org