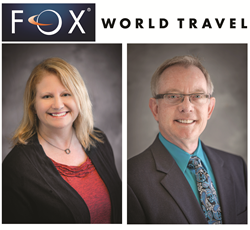 Oshkosh, WI (PRWEB) June 30, 2015
Fox World Travel is excited to announce two new hires in their Vacation Travel Division. Rebecca Kollmann has joined the Marketing Department as Director of Marketing and Jim Hodges is a new Business Development Manager for Group Vacations.
Kollmann has over 15 years' experience in the promotional marketing field, and over ten years' experience leading diverse marketing, project, sales and creative teams.
Kollmann is a graduate of UW-Oshkosh where she also earned her Master of Business Administration degree. Kollmann will oversee at Fox World Travel a marketing team responsible for supplier relations, customer communications, advertising and marketing initiatives.
Hodges joins Fox World Travel after spending 30 years in the radio broadcast industry, most recently with Journal Broadcast Group in Milwaukee. Hodges is responsible for developing custom group travel with radio and television stations as well as affinity groups nationwide to build brand awareness and increase customer loyalty. Hodges is a graduate of UW-Eau Claire.
"I couldn't be more pleased to welcome Rebecca and Jim to Fox World Travel. Both bring strong leadership skills, diverse business backgrounds and new ideas that we are anxious to develop to benefit our clients," said Brian Hurley, Vice-President of Vacation Travel.
Fox World Travel was founded in 1960 and is ranked as top travel agency in the United States, according to the Business Travel Survey in Business Travel News. Fox World Travel owns and operates 11 retail travel locations throughout Wisconsin as well as a full service corporate travel division and Premier Meetings and Incentives in Oshkosh and Fox World Travel School. Fox World Travel is the largest vacation travel agency in Wisconsin. Fox World Travel's corporate travel division is a leading provider of travel management solutions, serving travelers as they navigate the globe while guiding organizations toward successful policies, compliance and financial advantages in their domestic and global travel programs. Visit Fox World Travel online at http://www.GoFox.com.