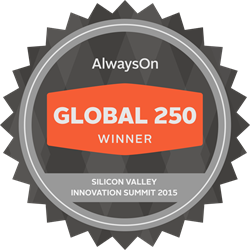 "It is an honor to receive the AlwaysOn Global 250 award." Chris Beall, CEO, ConnectAndSell
Los Gatos, CA (PRWEB) June 29, 2015
ConnectAndSell, the leader in Advanced Sales Acceleration Technology, today announced that it has been chosen by AlwaysOn as one of the AlwaysOn Global 250 winners. Inclusion in the AlwaysOn Global 250 signifies leadership amongst its peers and game-changing approaches and technologies that are likely to disrupt existing markets and entrenched players in the Global Silicon Valley. ConnectAndSell was specially selected by the AlwaysOn editorial team and industry experts spanning the globe based on a set of five criteria: innovation, market potential, commercialization, stakeholder value, and media buzz.
ConnectAndSell and the AlwaysOn Global 250 companies will be honored at AlwaysOn's 13th annual Silicon Valley Innovation Summit at the Computer History Museum on July 8 & 9, 2015.
This exclusive event gathers the brightest minds for a lively exchange on the top trends; along with identifying the most promising entrepreneurial opportunities and investments in the global tech industry.
"The AlwaysOn Global 250 are the best-of-breed private companies in consumer and business-to-business applications, and cloud and mobile infrastructure sectors—representing the fastest growing and most highly valued new companies on the planet." explained AlwaysOn founder and editor, Tony Perkins. "The consumer companies continue to explode, along with the mobile boom and the proliferation of billions of other connected devices that make of the long heralded as 'Internet of Things.' The business market continues to be reinvented by a new generation of big data and analytics companies and new efficiencies in cloud technology and services."
The AlwaysOn Global 250 winners were selected from among thousands of domestic and international technology companies nominated by investors, bankers, journalists, and industry insiders. The AlwaysOn editorial team conducted a rigorous three-month selection process to finalize the 2015 list.
As companies like ActOn, InfusionSoft, and Marketo turn to ConnectAndSell to insure that marketing leads are followed-up on in under five minutes, and called with automated and intelligent persistence until the leads are reached, ConnectAndSell continues to grow rapidly. And with the launch of OutboundOnDemand, a
managed service, ConnectAndSell is poised to be the managed service to handle inbound leads for enterprise companies around the globe.
Click here to learn more about what it means to have a team of SDRs who can deliver 1,200+ dials/day.
A full list of all the AlwaysOn Global 250 winners can be found on the AlwaysOn website at http://www.aonetwork.com.
According to Chris Beall, "It is an honor to receive the AlwaysOn Global 250 award. For the past few years, so many companies focused on generating leads, and this year and next, according to the analysts, marketers will be focused on driving sales conversations with the leads that they have created".
About ConnectAndSell
ConnectAndSell delivers live conversations and business meetings on demand, using a combination of patented switching technology and virtual sales agents. On average, ConnectAndSell can deliver a live conversation with exactly the people you're trying to reach in under four minutes. This allows ConnectAndSell customers to accelerate sales growth with their current resources. In 2014, ConnectAndSell was voted as the Top Solution Provider by the American Association of Inside Sales Professionals, and also was awarded Top 40 Marketing Tools of 2014, and in 2015, was voted as a Top 100 Always On OnCloud Top 100 Private Companies and AlwaysOn Global 250 Winner, and was also voted Silver Medalist by the Stevie Awards.
About AlwaysOn
AlwaysOn is the leading business media brand connecting and informing the entrepreneurial community in the Global Silicon Valley. Founded by Red Herring founding editor, Tony Perkins in 2003, AlwaysOn's mission is to continue to lead the industry by empowering its readers, event participants, sponsors, bloggers, and advertisers like no other media brand.
# # #