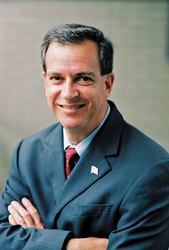 RIVERDALE, N.Y. (PRWEB) June 30, 2015
Matthew S. McManness has been appointed as vice president for finance and chief financial officer at Manhattan College. McManness, who has been serving as interim VP/CFO since April, brings a wealth of experience in all aspects of higher education finance.
"While serving in an interim capacity, Matt emerged from a national search as the clear choice for the permanent position," said President Brennan O'Donnell. "The depth and breadth of his experience in all areas of higher-education financial operations combined with his deep knowledge of and commitment to our Lasallian mission make him the perfect fit for Manhattan College."
During the course of his distinguished 36-year career, McManness has held positions in financial operations, human resources, auxiliary services, advancement, facilities and capital development. McManness has most recently served as vice president for finance and administration at La Salle University. Previously, he was executive officer for Dartmouth College, vice president for finance and administration at Maryland Institute College of Art, and served in many administrative roles at Towson University in Maryland.
Among his professional activities, he has been an active member of the National Association of College and University Business Officers, serving as a member of the National Constituency Council. He also has presented papers and authored articles on debt funding and management, strategic facilities planning, human resources, market and performance studies, institutional advancement models, maximizing revenues and efficiencies, and revenue enhancement models.
His work has been recognized for its excellence many times throughout his career. He has been named a regional Business Officer of the Year and has received many local awards for business innovation and community leadership. In 2012, the Philadelphia Business Journal honored McManness as Chief Financial Officer of the Year for all Regional Nonprofit Organizations.
"Coming from one great Lasallian institution to another great Lasallian institution has made for a seamless transition," McManness said. "The entire College, and in particular the finance division, has warmly welcomed me, which speaks so highly of the professional environment that exists at the College."
McManness earned a Bachelor of Arts from Gettysburg College and a Master of Science from Shippensburg University. An avid runner and an active running coach, he was recently inducted into the Gettysburg College Hall of Athletic Honor.