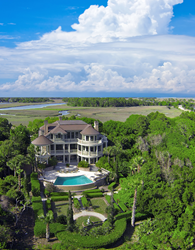 The luxury real estate market in Kiawah Island is strong, and a home with this combination of a breathtaking natural setting, 21st century comfort and technology, and Old World craftsmanship is a rare find.
Kiawah Island, S.C. (PRWEB) June 30, 2015
Interested buyers will have the chance to name their price on a magnificent five-bedroom, six and one-half-bathroom estate that offers the best of Kiawah's coveted lifestyle. One of the most desirable properties on Kiawah Island, the home offers elegant beach living amid sweeping views of unspoiled natural marshes, the Atlantic Ocean, and The Ocean Course, home to the 2012 PGA Championship. It will be sold at a live absolute auction with no minimum bid and no reserve on Tuesday, July 21st, at 2:00 p.m. EDT by Grand Estates Auction Company. The furnishings will be made available to the winning bidder for purchase.
"Interested buyers should come ready to bid on this amazing buying opportunity," stated Grand Estates Auction Company Director of Sales Development Stacy K. Reich. "The luxury real estate market in Kiawah Island is strong, and a home with this combination of a breathtaking natural setting, 21st century comfort and technology, and Old World craftsmanship is a rare find. This stunning, Kiawah Island home will be going to one lucky bidder on July 21st."
Nestled on the Atlantic Coast just a short drive from Charleston, Kiawah Island has many accolades and was voted the number two island in the world by Condé Nast Traveller; one of the top four places to buy a second home by Barron's; the number one tennis resort in the world by Tennis Online; the second most romantic beach in America by National Geographic Traveler; and among the nation's top golf communities by Golf Magazine, Golf Week, and Golf Digest. The exclusive gated community offers luxury amenities such as five-star golf, tennis, boating, deep-sea fishing, health spas, gourmet dining, and shopping. But the natural beauty of the pristine beaches and untouched marshes is what makes Kiawah Island so distinctive.
"This home in Kiawah is special," said the seller, Timothy Biltz. "I especially love the expansive ocean views, our relaxing and fun-filled outdoor dinners, and play time in the pool. This is where our family and friends have gathered to create wonderful memories. I am convinced that Grand Estates will bring us new owners who will soon be creating their own lasting memories here."
The beautiful family residence features a custom-designed gourmet kitchen; butler's pantry with air-tight silver cabinet; formal and informal dining and living rooms; formal and informal offices; game room with fully equipped wet bar; a 1,000-bottle climate-controlled wine cellar; exercise room with kitchen; and five-car plus golf cart garage. Attention to detail and architectural design is witnessed in the grand entrance featuring a French limestone and ironwork staircase, sweeping glass walls, Tuscan columns, antique wormy chestnut and cherry paneled walls, elevator access to all three levels, and three fireplaces. Resort amenities include a heated infinity pool and spa; formal English garden; professionally equipped outdoor kitchen; and abundant outdoor entertainment space. Geothermal heating and cooling, central vacuum, Vantage lighting system, and a whole-home entertainment system are among the home's state-of the-art systems.
Grand Estates Auction Company has an unsurpassed closing rate in the luxury residential real estate auction industry and specializes in creating comprehensive global marketing campaigns for luxury properties. There are no contingencies, no lengthy negotiations, and timelines for closing are already established. To help buyers make an informed purchase, a comprehensive due-diligence packet is available, and ample time is allotted for tours and inspections prior to the auction. Similar to rare artwork that does not have comparable pieces to set the value, exceptional properties such as this are well suited for auction, where bidders set the market value.
The Kiawah absolute auction will start promptly at 2:00 p.m. on Tuesday, July 21st. Provisions for remote bidding can be arranged. The property will be available for prospective bidders to preview beginning Friday, July 17th at 11:00 a.m., with daily preview times scheduled through the date of the auction. Buyers may contact Grand Estates Auction Company's auction information office to schedule an appointment during one of the preview times at 800-552-8120. A $150,000.00 certified check or personal check along with a bank letter of guarantee will be required to register to bid. Real estate agents and brokers are fully protected and encouraged to participate.
Grand Estates Auction Company is the leader in the niche market of auctioning luxury real estate, specializing in properties valued at $2 million and above throughout North America, the Caribbean, and select international destinations. Based in Charlotte, N.C., the company was established in 1999 and was the first of its kind. Recent auctions include the record-breaking sale of an $11 million home in Bay Harbor, Mich., and a $5.885 million home in Lake Geneva, Wis., the second-highest price for a single-family home in Lake Geneva in more than five years. For more information and auction details visit http://www.GrandEstatesAuction.com.