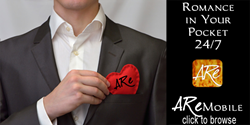 This new, enhanced design will allow us to better reach and serve the burgeoning mobile market.
Safety Harbor, Florida (PRWEB) July 01, 2015
The mobile site offers customers the ability to view featured books, best sellers, deals, trending titles, and an array of recommended reads based on each buyers individual purchasing history. Readers can search using a combination of category, title, author, publisher, series name, and tags. Search results can then be further sorted by best selling, top rated, recently added, length, title, heat level, price, and discounts.
"We're very excited about this roll-out," said Lori James, the company's Chief Executive Officer. "Internet usage on mobile devices exceeds PC usage. This new, enhanced design will allow us to better reach and serve the burgeoning mobile market."
Purchases can be made with the click of a mouse or the touch of a link using All Romance's secure "Buy Now" option, or users can elect to pay with Visa, MasterCard, PayPal, or their available eBook Bucks—the company's in-store currency. Books are then immediately delivered to the buyer's online library where they can be gifted or downloaded for viewing. Books in the library can be sorted by purchased date, published date, title, or author. There's even an archive function to help readers distinguish between the books in their virtual to be read pile or on their keeper shelf from those that will remain in the stacks. Those who like to maintain a wish list will be able to do that too. And, those who need a little extra help will be able to access troubleshooting tips and initiate support requests directly from their device.
Please visit http://www.allromance.com/mobile to view the new site.
All Romance eBooks, LLC was founded in 2006, is privately held in partnership, and headquartered in Clearwater, Florida. The company owns All Romance (allromanceebooks.com), which specializes in the sale of romance eBooks, OmniLit (omnilit.com), which sells both fiction and non-fiction eBooks, and ARe Cafe (arecafe.com), a community for passionate bibliophiles.