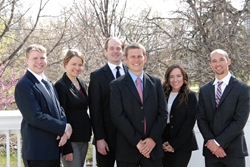 Our legislative update offered a clear understanding of new tax matters and how they affect all of us, especially the taxing structure on retail marijuana sales.
(PRWEB) July 01, 2015
Tax law attorney Tyler Murray, of Gantenbein Law Firm in Denver, presented The Annual 2015 Tax Law Legislative Update at the multi-sectional luncheon held June 10, 2015.
The event, sponsored by the Colorado Bar, was held at the CBA CLE office on Grant Street, Denver and attended by Denver-based attorneys representing Real Estate, Business, Trusts, Estates and Tax areas of law.
Mr. Murray spoke on recent legislation enacted this year involving changes to a wide range of tax subjects including sales and use taxes, real estate taxes, income taxes and retail marijuana taxes.
Of special interest was the elimination of Colorado's income tax withholding requirements for active duty and military pay. Other areas of importance discussed was the creation of secondary education funding by counties through tax credits and the upcoming ballot initiative to alter TABOR (taxpayer Bill of Rights). That particular initiative has high significance in that it would allow Colorado to keep and spend the sales and excises taxes collection from marijuana and lower current tax rates to keep in compliance with TABOR in the future. Colorado voters approved TABOR in 1992, a constitutional amendment designed to restrain growth in government. TABOR limited the amount of revenue governments could collect and spend.
A leading tax and business attorney, Mr. Murray holds a Master's Degree in taxation, is a well-known and published author on taxation and business and has provided House testimony in support of Colorado taxation issues. He sits on the executive council as President of the Colorado Bar Association, Tax Law Section and serves as the editor of the CBA Tax Newsletter as well as the appointed liaison to the Denver Bar Association.
Contact Gantenbein Law Firm's tax attorneys in Denver, Colorado, at 303-618-2122. Gantenbein Law Firm offers a wealth of experience in Real Estate Law, Business Law, IRS and Tax Law, Estate Planning and Wills & Trusts. For more information Gantenbein Law Firm's lawyers, accolades and practice areas, visit http://www.gantenbeinlaw.com.