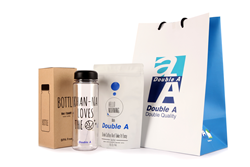 'This promotion is our way of giving thanks and showing appreciation to our loyal customers in Korea', said Mr. Thirawit Leetavorn, Senior Executive Vice President of Double A
Seoul, South Korea (PRWEB UK) 30 June 2015
Double A Korea will hold a summer event promotion for customers who will purchase six or more boxes of Double A at the major online office supply stores during the month of July.
Participating customers will have the chance to win a 'Cool Summer Office Package' that is specially designed to suit Double A's loyal office worker customers. The package includes a BPA-free water bottle printed with 'KHAN-NA Loves the Earth' graphic, as well as a packet of Hello Morning premium quality coffee drip bags.
Mr. Thirawit Leetavorn, Senior Executive Vice President of Double A said, "This promotion is our way of giving thanks and showing appreciation to our loyal customers in Korea. Double A will continue to provide premium quality products and exciting opportunities to our customers".
Double A's Summer Event Promotion will be held in major catalogue stores, namely Alpha, Office Plus, Office Nex, Linko, Iffice and Office Way online malls. For more information about this promotion, please visit Double A's Facebook page http://www.facebook.com/DoubleA.Korea