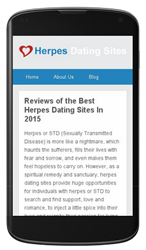 (PRWEB) July 01, 2015
Popular review portal HerpesDatingSites.org recently refreshed its user interface, making it more responsive and easy to navigate. By making fundamental changes to the UI, the website hopes to benefit more users from across the globe.
A representative from the site said, "Finding the right website has been getting tougher. People are seeking professional assistance while searching for the best dating site. Although the site had reviews of the best dating sites in the segment, we have tried making the site more responsive and easy to navigate. Making the most of all our services has now become easier. The design feels refreshed and we have also added a new blog section."
In the recent years, dating sites have become more informative in order to cater to the needs of the diverse subscriber base. The herpes dating segment has grown in leaps and bounds, with users relying on dating sites to find their perfect partner. In addition to revamping the user interface, this site has also refreshed its list of the best dating sites on the market. As per latest rankings, Positive Singles bags the top spot.
Reviewer and dating counselor Michael McDonald said, "It is important that dating sites become more responsible. There are millions of people that trust these websites and look for support. This review site has been doing a commendable job in assisting people find the right dating platform depending on their needs and tastes."
Some of the other popular dating services listed on the site include MpwH, Hmates, H-date and StdFriends. HerpesDatingSites.org is absolutely free to use and requires no registration.
To read reviews of herpes dating sites, please visit http://www.herpesdatingsites.org/