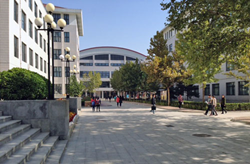 Our alliance with Beijing City University, a leading university in Chinese biotechnology education and research, enables students and faculty from both institutions to experience our rich, vibrant cultures and to live and learn alongside their peers
(PRWEB) June 30, 2015
Students and faculty from Beijing City University will arrive on July 12 to take part in the first half of "Integrative Biotechnology," an applied biotechnology course team-taught by faculty members from both institutions. The result of a partnership established in summer 2014, this course combines students from both universities and is taught on both continents.
"Our alliance with Beijing City University, a leading university in Chinese biotechnology education and research, enables students and faculty from both institutions to experience our rich, vibrant cultures and to live and learn alongside their peers in the United States and China," says Sister Paula Marie Buley, IHM, President.
Rivier Associate Professor and Biology Department Coordinator Dr. Joel Stake is co-teaching the course with Dr. Liu Yanli, a biotechnology faculty member from Beijing City University. Dr. Yanli and ten students are arriving in Nashua on July 12 for the first half of the joint course. Ten Rivier students are partnering with ten Beijing City students for the week, including rooming together in the dorms, teaming up in the lab, and gaining insight into American culture and points of view on biotechnology.
After the Rivier University course components, the entire group will travel to Beijing for the second half of the course. In Beijing, Dr. Liu Yanli will instruct the students, spending another week working in cross-cultural lab teams, visiting Chinese biotech companies and exploring biotechnology from the Chinese perspective.
"We are looking forward to entering the phase of our partnership that actively engages faculty and students," says Dr. Stake. "The exchanges and dialogue between Rivier University and Beijing City University communities are focusing on issues that greatly impact both of our societies. These experiences will inform and develop students' skill sets and cultural competency."
Broadening the academic exchange, Associate Professor of Business and Associate Vice President for Global Engagement Dr. Mark Meehan will travel to Beijing City University in July to teach "Nonprofit Leadership in the West: Philosophy, Focus, and Management" to Chinese students on their home campus.