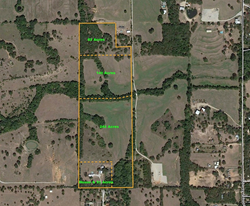 KANSAS CITY, Mo. (PRWEB) July 02, 2015
Qualified buyers will have the opportunity to purchase roughly 100 acres of land in the Texas counties of Parker and Tarrant. The acreage will be offered in six separate parcels or in its entirety at a live event Friday, July 10.
Conducted by David Coleman principle, auctioneer and broker with United Country – Coleman & Patterson, the live auction will take place on-site at 14059 Briarwood Road in Azle, Texas. Registration for the event will begin at 9 a.m., and the auction will take place at 10 a.m. The property will be available for viewing from 2 p.m. to 4 p.m. on Sunday, July 5.
Located minutes from Eagle Mountain Lake, this property provides approximately 100 acres of improved pastures and scattered woods. It features the following highlights:

Scattered oaks and hardwoods throughout the tracts
Roughly 2,256-square-foot home on about five acres with three bedrooms, two baths, custom finishes, metal roof, stone exterior and swimming pool
Covered parking for RV and metal shop/storage building
"Our seller recognizes the value of using an accelerated method of marketing – in other words, an auction – to sell their property," Coleman said. "What does this mean for buyers? It means they have the opportunity to purchase part or all of a great Texas acreage at an affordable price. Today's market conditions and the auction format allow sellers and buyers to come to a meeting of the minds quickly with a competitively achieved fair market value. In times like these, an auction is the best way to establish what real market value is."
Detailed information about the property for sale, as well as details about the auctions, can be found online at UCTexas.com or by calling 888-300-0005.
About United Country
United Country Real Estate – a division of the United Real Estate Group – is the leading, fully integrated network of conventional and auction real estate professionals. The company has been an innovator in lifestyle and country real estate marketing since 1925. United Country supports nearly 600 offices and 5,000 real estate professionals across four continents, with a unique, comprehensive marketing program that includes the highest ranked and largest portfolios of specialty property marketing websites, the largest real estate marketing services company, an extensive buyer database of more than 500,000 opt-in buyers and exclusive global advertising of properties.