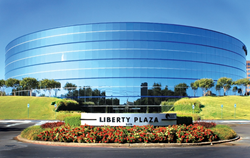 "Dallas Fort Worth has long been our home, and bolstering our presence here positions the company for continued success while allowing us to give back to the local community"- Alex Parvizian
Dallas, Tx (PRWEB) July 01, 2015
Alex Parvizian, founder and chief executive of ASCHERE ENERGY LLC, has announced the company is expanding its Corporate offices to Liberty Plaza - 5055 Keller Springs Rd. Addison, Texas 75001
"Dallas Fort Worth has long been our home, and bolstering our presence here positions the company for continued success while allowing us to give back to the local community, As we build our team, we're committed to upholding the same corporate values of Integrity and Commitment to our partners and sophisticated digital technology that our driving our decisions that have contributed to our overall success."

Alex Parvizian CEO Aschere Energy
The new 12,000-square-foot facility will accommodate the company's tremendous growth since its 2008 formation. The Headquarters feature a high-tech, open environment that will support work teams and multiple project venues. There is an ultra-modern lounge and conference room, as well a company work-out room. The building has a neutral color scheme, subtle textures and utilizes retractable screens that blend to create a comfortable and relaxing environment.
The two building campus is managed by Holt Lunsford Commercial. Holt Lunsford is the third largest commercial real estate provider in the Dallas/Fort Metroplex, overseeing over 47 million square feet in Dallas, Fort Worth and Houston for private and institutional owners.
"The opening of our new office is representative of our commitment to our partners and employees. said Alex Parvizian, "We're growing our team to meet their needs and attract the next generation of Aschere Energy employees. Expanding our reach and capabilities in the region will allow us to continue its success in this vital market."
Job seekers interested in applying are urged to visit the company's career website at: http://aschereenergy.com/careers/
About Aschere Energy
Headquartered in Dallas, Texas Aschere Energy focuses on opportunities for development in existing fields where drilling success ratios are much higher than those resulting from the alternative of drilling in an unproven area. Aschere Energy is actively participating in some major trends in the U.S. such as the Eagle Ford Shale, and the Wilcox Trend.
Contact Information
Todd Gregory
Marketing Director/Partner Relations
Aschere Energy
(877)-888-5116
http://www.aschereenergy.com