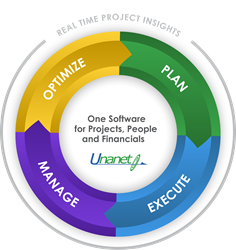 Dulles, VA (PRWEB) June 30, 2015
Unanet, a developer of software that helps project-driven organizations manage projects, people and financials in one integrated system, has announced it will be exhibiting at the National Association of College and University Business Officers (NACUBO) Annual Meeting.
The conference will take place at the Gaylord Opryland Convention Center in Nashville, TN from July 18-21. Roughly 2,000 people from over 200 organizations are expected to participate. Attendees can earn up to 18 CPE credits from sessions on Accounting, Business Management and Organization, Communications, Finance, Personal Development, Specialized Knowledge & Applications, and Taxes. Unanet will host a reception on Sunday July 19 for invited attendees, including customers and partners.
A number of major universities, including Clemson and Cornell, use Unanet to improve internal IT management processes, and to manage contract research in compliance with Federal Government requirements.
Within Higher Education IT, Unanet enables organizations of all sizes to manage their portfolio of projects, and ensure alignment of actual effort with priorities. With Unanet, resources can be allocated based on job category, and skill, and how much time is needed per person, per project. More formal project definition and approval processes limit 'scope creep' and support a stable software development process, while allowing reasonable iteration. Stakeholders, such as Administrative Deans, or other project sponsors can prioritize and approve projects based on commitments. Forecasting is improved, based on time spent on previous projects using historical data and prior estimates and staff overload can be avoided and projects kept on track.
About NACUBO
The National Association of College and University Business Officers (NACUBO) is a membership organization representing more than 2,500 colleges, universities, and higher education service providers across the country and around the world. NACUBO specifically represents chief business and financial officers through advocacy efforts, community service, and professional development activities. The association's mission is to advance the economic viability and business practices of higher education institutions in fulfillment of their academic missions.
About Unanet:
Unanet is a leading provider of Cloud or On-Premise software for project-driven organizations. Unanet delivers resource planning, budgeting & forecasting, skills management, time & expense reporting, billing & revenue recognition, project management reporting and integrated financials with accounts receivable, accounts payable, general ledger and cost pool calculations in one integrated system. Over 1,000 organizations rely on Unanet to maximize staff utilization, reduce administrative costs by 90%, improve invoicing by 10X, and support forward decision-making for improved operations.