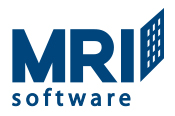 SOLON, Ohio (PRWEB) July 02, 2015
MRI Software, a global leader in property and investment management solutions, participated in TH Real Estate's first ever TECHKNOW event on June 12, 2015. MRI's newest property management software, Version X, and its activity-based search, MRI•GO, were demonstrated to some of the 140+ attendees at the event.
"Our demonstrations were very well received and the user base could instantly see that Version X takes ease of use and task execution to a new level," said Mark Bird, International Director of Global Professional Services at MRI Software. "The attendees were very excited by our new search capabilities, stating that this feature would save them time in managing their routine property management tasks. The attendees were also pleased to hear that MRI has implemented this new software for many customers, without any major complications, driving a low-risk, tailorable solution for the global real estate industry."
MRI Version X has been in use since early 2015 with a targeted set of clients and was widely released on June 9, 2015. This newest version of MRI's award-winning enterprise property management software is designed to reduce the time needed to complete routine tasks, operate on mobile devises, and minimize training. These benefits, combined with the flexibility of the software, and the partners in the MRI Partner Connect program, provide an enterprise management solution supporting the dynamic real estate industry.
For more information about MRI's solutions visit http://www.mrisoftware.com.
About MRI Software
MRI Software LLC is a leading provider of innovative software solutions for the global real estate industry. MRI delivers a comprehensive and truly configurable solution, from property-level management and accounting to the most complex, long-range financial modeling and analytics for both the commercial and multifamily real estate markets. As a leading provider of real estate enterprise software applications and hosted solutions, MRI leverages over 40 years of business experience to develop long-term successful relationships with its clients. Originally founded in Cleveland, Ohio, U.S.A., the company has offices in Toronto, London, Sydney, Singapore, and Hong Kong. For more information, please visit http://www.mrisoftware.com.