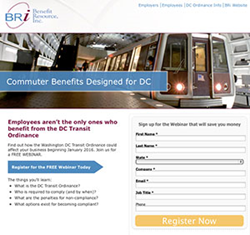 Rochester, NY (PRWEB) July 08, 2015
Benefit Resource announces new resources and an educational webinar regarding the DC Transit Ordinance. As of January 1, 2016, Washington DC will join other metropolitan areas across the country which are requiring employers to offer commuter benefit plans.
*What is the DC Transit Ordinance?*
Under the Sustainable DC Act of 2014, Washington DC passed a commuter benefit ordinance which requires businesses with more than 20 employees located in Washington DC to offer commuter transit benefits. Employers can comply by offering one of the following commuter benefit options: (1) Employee-paid pre-tax benefit, (2) Employer-paid direct benefit, or (3) Employer-provided transportation.
*Three opportunities to learn more*
1) DC Transit Ordinance Resource Site - http://www.benefitresource.com/dctransit
This new site, available through Benefit Resource, outlines key provisions of the law, options for becoming compliant, employer savings calculators, a self-service employer sign-up process and personalized quote option.
2) Employer DC Transit Toolkit -
Downloadable guide to walk employers through key aspects of the law and options to get started. The toolkit is available at http://www.benefitresource.com/dctransit
3) Educational Webinar - "DC Transit Ordinance: Saving for All"
On July 21, 2015 at 1:00 Eastern Time, Benefit Resource will host an educational webinar on the new DC Transit Ordinance. The 30-minute webinar presentation will cover:
What is the DC Transit Ordinance?
Who is required to comply (and by when)?
What are the penalties for non-compliance?
What options exist for becoming compliant?
Following the presentation, there will be an opportunity for attendees to submit questions regarding the ordinance and commuter benefits. To sign-up for the webinar, please visit: http://www.benefitresource.com/dctransit
Additionally, Benefit Resource will offer an encore webinar on July 23, 2015 regarding the New York City Transit Law also taking effect January 1, 2016. Visit commuterbenefits.nyc for more information.
About Benefit Resource, Inc.
Benefit Resource has been committed to providing pre-tax mass transit and parking benefits since it introduced one of the first commuter benefit payment cards in 2001, known as the eTRAC Prepaid MasterCard. Benefit Resource continues to expand its commitment to advancing the industry and innovations in commuter benefits with the introduction of mobile applications and contactless payment technology.
Benefit Resource provides innovative and dedicated administration of pre-tax benefit programs including: Commuter Benefit Plans, Flexible Spending Accounts, Health Reimbursement Accounts and Health Savings Accounts. Benefit Resource is an independent company founded in 1993 and headquartered in Rochester, NY with local support across the country, including the DC Metropolitan area.