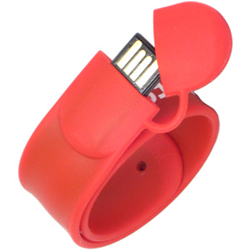 The USB wristbands may all be silkscreened and color customized like all other personalized USB flash drives
Riverwoods, Illinois (PRWEB) July 03, 2015
Bowtie Promotions Showcases Wristband USB Personalized USB Flash Drives
Bowtie Promotions, focused on being the leader in the latest and innovative promotional items with an emphasis on absolute customer satisfaction, is launching a showcase of a wide selection of wristband USB flash drives
Bowtie Promotions' wristband USB flash drives are made available in four exciting categories 1) Slap USB wristband 2) Glow USB wristband 3) Slim USB wristband 4) USB wristband. All wristband USB flash drives may be personalized with a silkscreen printing. Once personalization is complete, Bowtie Promotions' 10-day fast-track branding service ships the finished product in 10 business days or less.
Using wristbands to communicate messages of affection or support are being used all over the world. Bowtie Promotions showcases USB wristbands to let the public know that the message of support can be combined with a great feature and convenience of the USB drive.
The wristband model lineup consists of exciting categories of function, feel, and design. The Slap wristband model closes around the wrist for a strong hold. The Glow USB wristband is made from flexible silicone type material which glows in the dark with a neon-green light. The Slim USB wristband lets self expression free with a gentle slimming curve and flexible silicone type material. The USB wristbands may all be silkscreened and color customized.
"We are thrilled to showcase our USB wristband product line that includes fantastic choices – A Slap wristband, Slim wristband, Glow wristband, and USB wristband. With so many different models to choose from, our customers can share the thought of support or affection with style and function", stated Dennis Lanski, President with Bowtie Promotions.
Visit http://www.BowtiePromotions.com to obtain more information. Telephone inquiries may be directed to Dennis Lanski at 877-853-1573
Bowtie Promotions is a registered trademark of Bowtie Promotions Incorporated.