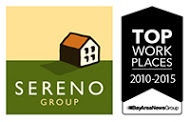 Los Gatos, CA (PRWEB) July 02, 2015
For the 6th consecutive year, Sereno Group has been named as one of the best places to work in the greater Bay Area by the Bay Area News Group in their prestigious Top Workplaces 2015 list, an annual profile of the top 100 places to work in the Bay Area's Santa Clara, San Mateo, Contra Costa, Alameda, and Santa Cruz counties.
Sereno Group was originally recognized in 2010 on the small-size company list (50-150 employees) and has received the recognition on the medium-size company list (151-500 employees) for the past three years. The firm has been ranked either first or second in each category for each of the past six years.
A significant distinction, Sereno Group is the only real estate company to win every single year since the awards inception in 2010, as well as one of only seven companies across all businesses. More than 6,400 companies have been nominated since 2010 and the final list of 100 companies is comprised of a diverse cross section of firms which include high tech and engineering organizations, nonprofits, hotel services, and legal firms, among others.
"We are honored to continue to be recognized as one of the Top Workplaces in the Bay Area now for six years in a row," said Chris Trapani, Founder of Sereno Group. "Our team is comprised of a wonderful group of hard working professionals, and this is a testament to Sereno Group's unique, caring and dynamic culture."
The Bay Area News Group, which owns the San Jose Mercury News, Oakland Tribune, Contra Costa Times and other media properties, selects Top Workplace winners based on an annual survey of Bay Area company employees, measuring employee engagement, organizational health, satisfaction and company culture. The employee survey is conducted by WorkplaceDynamics, LLP, a leading research firm on organizational health and employee engagement.
About Sereno Group:
Open since July 1, 2006, Sereno Group Real Estate has quickly established itself as a market leader by continually attracting top producing agents in the Silicon Valley. During this time, Sereno Group has achieved the highest per agent productivity for residential real estate brokers in the county. In 2014, Sereno Group closed over $2.4 billion in sales with an average sales price of $1.1 million. The company's 1% for Good charitable movement donated over $400,000 to local charities and community-minded organizations and was recognized as one of the top 50 most philanthropic corporations in the Bay Area. The company, which has been ranked the #1 Best Place to Work in the Bay Area for six years, now has eight offices located in Palo Alto, Los Altos, Saratoga, Los Gatos, Willow Glen, Santa Cruz, Westside Santa Cruz, and Aptos. The 275 agents of Sereno Group serve the Santa Clara, San Mateo and Santa Cruz Counties and points beyond. For more information, please visit: http://www.serenogroup.com.