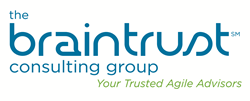 Through practical, hands-on training and enterprise and team coaching, Braintrust leads professionals through the process of planning and implementing Agile processes, such as Scrum and Kanban.
Birmingham, Ala. (PRWEB) July 06, 2015
The Braintrust Consulting Group, a worldwide leader in Agile, will host a three-day Certified Scrum Developer (CSD)-Track Two training class in San Francisco on August 5-7, 2015.
This three-day class is aimed at helping software development professionals and teams become more effective when implementing Scrum and other Agile methodologies. Attendees will learn how to create and maintain high quality systems through industry standard practices such as Test Driven Development, Continuous Integration and common software design patterns.
Braintrust specifically designed this class to deliver the core Agile Development Practices Learning Objectives of the CSD program and should prepare the participant to successfully pass the Scrum Alliance CSD Candidate Assessment. Braintrust's approach to training incorporates activities that create a fun and interactive environment for learning in a dynamic way.
This class is ideal for software architects, developers, development managers and systems analysts who have an understanding of Scrum principles and specialized Agile engineering skills. The CSD Track Two is intended for professional software developers who are on a Scrum team and want to understand how Scrum and agile engineering practices are applied. It's also ideal for candidates who already have their Certified ScrumMaster (CSM) certification.
In order to earn the CSD certification, the Scrum Alliance requires at least five days of formal training followed by a CSD assessment/evaluation. This class fulfills 21 of the required 35 hours and can be paired with the prerequisite Certified ScrumMaster class to complete the requirement.
Members of the Project Management Institute will earn 21 Professional Development Units (PDUs) toward maintaining their existing credentials by attending this class. To learn more about Braintrust's Scrum certification training or to sign up for the class, please visit http://braintrustgroup.com/class/certified-scrum-developer-agile-engineering-ae-san-francisco-ca-5-7-august-2015/.
Braintrust President, Brian Rabon said, "Our decision to host classes in San Francisco is based on the city's commitment to job growth in tech. Scrum certification is one of the leading professional development certifications for IT professionals and Braintrust has the leading team of Scrum experts to share. San Francisco boasts a strong and talented ecosystem of technology professionals and we are proud to participate in their technology industry by bringing Braintrust's world-class training to San Francisco."
Erick Fleming, CSM, JCD, MCT, MSCD, will instruct this course. Fleming is a certified .NET and Java Developer with over 17 years of programming and training experience and holds a Bachelor's Degree in Management Information Systems from the University of South Florida. He has spent most of his career training and consulting with organizations on technologies ranging from .NET and Java to Linux and other open source tools, and specializes in cloud-based web solutions.
Attendees are encouraged to sign up in advance. Individual attendee, early bird, and group pricing are available. To learn more about the Agile approach to training and additional upcoming classes across the country, please visit http://braintrustgroup.com/classes/.
###
About The Braintrust Consulting Group
The Braintrust Consulting Group is the premiere leader in training and coaching in the field of Agile. Through practical, hands-on training and enterprise and team coaching, Braintrust leads professionals through the process of planning and implementing Agile processes, such as Scrum and Kanban. Braintrust blends people, process, tools, and training into one seamless formula in order to increase predictability of delivery, decrease time-to-market, and improve overall client satisfaction. A worldwide leader in Agile transformations, Brainstrust is based in Salt Lake City, Utah, with offices in Birmingham, Ala., and Los Angeles, California.