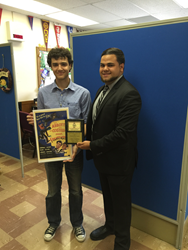 Clifton, NJ (PRWEB) July 03, 2015
Joseph Federico. President of the Lou Costello Charity Tent of Paterson NJ, presented its third annual scholarship to Alex Guthrie of Passaic Valley High School a four year public high school in Little Falls, NJ
"On behalf of the organization, we are pleased to award this scholarship in the name of our tent hero and former Paterson, NJ native Lou Costello to Mr. Guthrie in recognition of his outstanding scholastic achievements," said Joseph Federico.
Originally started in the 1970s as the Lou Costello Tent by Mr. Costello's personal physician and longtime friend Dr. Fred Crecente, the organization is comprised of prominent members of the professional and business world.
After a long hiatus, former director and current president Joseph Federico continues to revamp The Lou Costello Charity Tent of Paterson, NJ, with the permission of the Costello family, as a sub-chapter of the National Circus Saints and Sinners of America, Inc. It was established to continue the fund raising principles of the previous tent to aid charity organizations and charitable causes by holding fundraisers of various types.
The award was presented to Alex at Passaic Valley High School by tent director Michael Giannini.
Upcoming projects include a comedy night in the fall of 2015 and bus ride to the Radio City Christmas spectacular this December.
More information about the Lou Costello Charity Tent can be obtained by contacting Joseph Federico at The Lou Costello Charity Tent, by email at Joef@njmet.com. Also Mr. Federico writes a blog about corporate charitable activities.
Visit the National Circus Saints and Sinners website at http://www.circussaintsandsinners.com