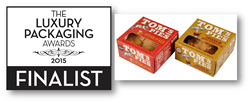 There is theatre through this design. The on-pack illustrations were inspired by an 18th century French book and convey the premium contemporary take on the vintage essence of the brand
(PRWEB UK) 7 July 2015
The Alexir Partnership is delighted to announce that Tom's Pies has been shortlisted in the Food category for the 2015 Luxury Packaging Awards. The volume and quality of the entries received this year exceeded expectations, so many congratulations to all on being shortlisted! The full shortlist will be available to view online from Monday 6th July on the official website http://www.luxurypackagingawards.com. The winners will be announced at an awards ceremony at The Ballroom, Grosvenor House Hotel, Park Lane on Wednesday 16th September 2015.
The Alexir Partnership was delighted to be approached by top packaging designers Ziggurat Brands to join them in the development of eye-catching, premium packaging for the well-known brand 'Tom's Pies'. This famous pie brand was founded in 2006 by chef Tom Cull, later joined by Tom Little, and started by supplying local delicatessens and foodservice. Tom's Pies are created from only the best and freshest ingredients, sourced locally wherever possible. These multi-award winning pies, lovingly handmade in Devon, quite clearly needed the best packaging for their next steps into the retail market and Ziggurat Brands cherry-picked Alexir for their expertise in the food packaging market.
The design and print of the new packaging were inspired by a Victorian Circus. As Alison Taylor, Director at Ziggurat Brands explains, "There is theatre through this design. The on-pack illustrations were inspired by an 18th century French book and convey the premium contemporary take on the vintage essence of the brand".
Evidently such an exquisite brand design from Ziggurat demanded a top quality constructional design and sophisticated finish to convey this premium theme. Great preparation was required by the print team at Alexir to achieve the exact colour matches and led to six colours plus varnish with foil blocking to shadow the brand name. There was also embossing on the 'rolling pin' to further enhance its tactile appeal.
As well as the premium finishing, the brand owners were looking for an 'opening experience' like no other pie brand in the market place. Ziggurat were keen to explore an idea they had which revolved around a perforated opening. This was realised by working closely with the team at Alexir, whose expertise in cardboard engineering and understanding of packaging line capabilities proved invaluable. Labelled 'The Grand Opening', perforations were integrated into the design from the top flap through to the bottom of the front face of the pack, allowing the consumer to open the whole pack to reveal the pie nestled on a background of the story of Tom's Pies printed on the reverse of the board.
Chris Fuller, Alexir's Senior Sales Manager responsible for the pack, explains "The perforation technique allows for easy tear and further enhances the theatre of opening the packaging to reveal the pie".
About The Alexir Partnership
With proven reliability, excellent quality and innovative packaging solutions, The Alexir Partnership is the only UK owned company that offers a complete design to delivery service in the specialist food packaging and co-manufacturing industry.
http://www.alexir.co.uk
Contact details
Claire Summersby, Marketing Manager and Head of Innovation,
+44 (0)1732 866681
csummersby(at)alexir(dot)co.uk