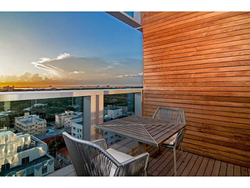 "When the sun pours in the windows, it feels like you're on the deck of a dream yacht in the Mediterranean, eying swells from a distance without a care in the world."
Miami, FL (PRWEB) July 07, 2015
The Residences at The Miami Beach Edition are not your ordinary luxury condos …
"The Edition is an umembellished masterpiece," Chris Leavitt explained. Instead of tacky amenities, "the building's appeal is all about minimalist interiors and high, high design—thanks in no small part to the stunning work of Ian Schrager and designer John Pawson."
Known for his work developing exquisite minimalist interiors, Pawson's design takes The Residences at The Edition to a whole new level. His contribution combines with fine craftsmanship and masterful planning to transform the building into a true, living work of art.
According to Chris, it all adds up to a uniquely breathtaking condo experience, "When the sun pours in the windows, it feels like you're on the deck of a dream yacht in the Mediterranean, eying swells from a distance without a care in the world."
A Whole new Level of Luxury
Chris has become one of South Florida's most successful real estate professionals over the last year, thanks in no small part to a number of massive sales he's closed at The Ian Schrager-designed Edition over the last few months.
His secret for closing all those sales? Pent-up demand …
"This is something that simply didn't exist in Miami until now," Leavitt explained. "The kind of place where you could 'have your cake and eat it too,' so to speak. Where you could enjoy all the amenities and service of a five-star hotel … but still expect a reasonable amount of privacy and a level of service becoming of a full-time resident."
"So the hotel is at your service, but residents have a completely separate entrance. No bumping into hotel guests or short-term visitors. Residents have their own carefully-selected residential team—one of the most amazing I've ever seen—and the best of the best that Ritz-Carlton has to offer."
With everything from 5-star room service to a cutting-edge spa, the Edition's world-class amenities combine with the secluded, relaxing feel of the building's Residences to offer the ultimate in Magic City luxury.
"It's truly effortless living, and at the highest level" Leavitt said.
About Condo.com
Condo.com is a global real estate marketplace for listing, searching, buying, selling and renting condominiums. Located at the "category-defining" address for condos, the site has the largest inventory of condos available for sale or rent, market data and reviews on thousands of condo buildings. Condo.com is part of the portfolio of digital real estate properties owned by eRealEstate Holdings, which includes Houses.com and Property.com. These portals are considered some of the world's largest online marketplaces for real estate, with more than five million active properties for sale and rent in the U.S. and more than 70 countries worldwide.
The sites collectively receive more than 20 million unique visitors per year and deliver highly qualified buyers and renters to a global network of brokers and agents. The privately owned company is headquartered in Miami, FL. Visit: http://www.condo.com
Lisa Pena
lisa(at)condo(dot)com
305.476.2080