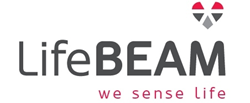 (PRWEB) July 09, 2015
"LifeBEAM" was featured on NewsWatch as part of its monthly Tech Report, which features the latest and coolest technology products available to consumers. Amanda Forstrom, a technology expert and special reporter for NewsWatch, conducted the review and shared with viewers how this Smart Hat is the best fitness device to track heart rate, calories, and steps.
If someone has ever worked out with a fitness app and chest strap, they've probably found it to be helpful but inconvenient. Well, there's a better solution and it's LifeBEAM's Smart Hat.
LifeBEAM is known in the wearables industry for their bio-sensing tech that powers some of the world's biggest consumer electronic and fashion brands and started out embedded in fighter pilot helmets to monitor their key performance vitals. They've taken that same technology to the consumer world with the Smart Hat, which tracks heart rate, calories, and steps.
Unlike traditional chest straps that can be irritating, the Smart Hat connects to favorite apps and fitness devices. The Smart Hat uses aerospace accuracy for tracking performance and more with the bio-optic sensors that are proven to be more accurate than regular chest straps.
To get started, all users have to do is open up their favorite fitness app or device, search for the hat using Bluetooth or ANT+, then choose the smart hat as the heart rate monitor and begin their workout. And with up to 15 hours of battery life, users will only need to charge it once a month.
The Smart Hat comes in black and white with a gray rim and there's even a more feminine the smart visor, which comes in white with a pink rim. The Smart Hat is available online for $99.
To learn more, visit life-beam.com/shop today.
About NewsWatch
NewsWatch is a weekly 30-minute consumer oriented television show that airs on the Discovery Channel and ION Network. NewsWatch regularly features top technology products and services, mobile applications for iOS, Android, and Windows devices, unique and beautiful travel destinations around the world, health and medical tips, and entertainment interviews on the show. NewsWatch airs on the Discovery Channel at 7:00 – 7:30 AM ET/PT.
NewsWatch is located in the greater Washington, DC area and has been on air for over 25 years. For more information or to watch the most recent episode, visit http://newswatchtv.com/tech-report.html.