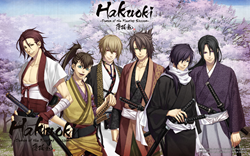 (PRWEB) July 12, 2015
"Hakuoki" was featured on NewsWatch as part of its monthly AppWatch, which takes a look at the latest and coolest applications on the market for iOS, Android, and Windows. Joe Toohey, the host of AppWatch and technology expert, conducted the app review and shared with viewers how this acclaimed anime game is now available on iOS and Android devices.
For all the anime and video game lovers out there, there's an acclaimed anime video game that's now on iOS and Android devices for the first time. Originally released on Playstation Portable, Hakuoki revolves around plots dealing with romance, political intrigue and of course super-cool samurai. This highly stylized game comes with a new bonus, an all-new chapter that users can play called Tea Ceremony. This chapter brings players brand-new art, and all-new dialogue recorded by the Japanese cast.
For people unfamiliar with the Hakouki, the story follows the story of Chizuru Yukimura in search of her father in the Edo period of Japan. This game has everything from betrayal to intrigue to seduction. Players meet samurai with supernatural powers along your adventure. Every player's actions and decisions will decide Chizuru's fate and all the endings aren't necessarily happy ones.
There are a couple of different ways to purchase Hakuoki. People can buy the Standard Edition where the prologue is free and each chapter of the remaining 14 costs only $2.99. Or people can buy the Premium edition for $27.99 and get all chapters upfront.
To learn more, visit http://www.hakuoki.com/ today.
About NewsWatch
NewsWatch is a weekly 30-minute consumer oriented television show that airs on the Discovery Channel and ION Network. NewsWatch regularly features top technology products and services, mobile applications for iOS, Android, and Windows devices, unique and beautiful travel destinations around the world, health and medical tips, and entertainment interviews on the show. NewsWatch airs on the Discovery Channel at 7:00 – 7:30 AM ET/PT.
NewsWatch is located in the greater Washington, DC area and has been on air for over 25 years. For more information or to watch the most recent episode, visit http://newswatchtv.com/appwatch.html.