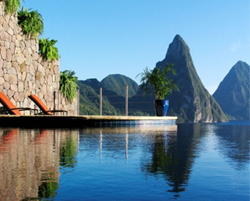 Soufriere, Saint Lucia (PRWEB) July 08, 2015
The leading travel magazine, Travel + Leisure, has just announced that Saint Lucia's Jade Mountain (http://www.jademountain.com) has once again been named one of the Top 100 Hotels in the World and Number One in the Caribbean in the latest Travel + Leisure World's Best Awards 2015.
For the 4th time and 3rd year in a row Travel + Leisure's readers have cast their votes for Saint Lucia's Jade Mountain as the Number 1 Caribbean Resort that defines the very best in travel. http://www.travelandleisure.com/worlds-best/hotels-caribbean-bermuda-bahamas-resorts Much of Jade Mountain's success can be attributed to the ongoing direct involvement of owners Nick and Karolin Troubetzkoy in their daily operations and the passion and limitless enthusiasm they have been able to instill in their resort team. Their guest service team is led by the resort major –domo butlers who are assigned to each guest and who look after their resort experience around the clock from arrival to departure.
Guests comment on the extraordinary, attentive service, the innovative farm-to-table culinary approach and of course, the inspiring architecture that is Jade Mountain.
"Walk into the living room and it seems as if you've walked into the Pitons: suites have only three walls, offering open-air, panoramic views," writes Travel + Leisure. "Designed and owned by Russian-Canadian architect Nick Troubetzkoy, the resort has bold and organic architecture that celebrates the natural beauty of St. Lucia."
Nick Troubetzkoy, the resort chairman, architect and builder started his love affair with Saint Lucia and the Caribbean with the opening of Jade Mountain's sister property, Anse Chastanet in the 70's. His revolutionary architectural approach produced the bold and completely unique Jade Mountain which opened in early 2007 and is perched on a mountain top overlooking Saint Lucia's landmark, the spectacular twin Pitons, a UNESCO World Heritage site, surrounded by the Caribbean Sea. There are 29 suites in total, which are called sanctuaries. In 24 of the sanctuaries, an extravagantly sized private infinity pool seems to be floating out into nature.
Jade Mountain also runs an organic farm and there is an on site chocolate laboratory making chocolate from their own estate grown cocoa trees. Guests have privileges at the adjoining sister resort Anse Chastanet with 2 beaches, additional restaurants and excellent resort activities including jungle biking, scuba diving, hiking and bird watching.
The results of the Travel + Leisure World's Best Awards 2015 are featured on http://www.travelandleisure.com/worlds-best and also, in the August issue of Travel + Leisure, on newsstands July 18.
For reservations call 800-223-1108 or contact JADE MOUNTAIN
Tel 758-459-4000, Fax 758-459-4002,
e-mail jademountain(at)ansechastanet(dot)com
website: http://www.jademountain.com Tel 1-758-459-4000
For press information, contact: Martha Morano, Morano Public Relations, 212-860-5566,
https://www.dropbox.com/sh/h4jii3xtrixe95w/AAA8iWGxHWfhVMj4BKMrZNoKa
https://www.dropbox.com/sh/z7i6cqq0b2lprdz/nQhoDVKdQl
https://www.dropbox.com/sh/n9sy0lxwqansv7q/AAAgKgY2EbgQJjKwPft7evqEa
ABOUT JADE MOUNTAIN RESORT: Award-winning Jade Mountain resort soars majestically above an exclusive 600-acre beachfront estate. Jade is an architectural marvel that embraces and celebrates St. Lucia's stunning scenic beauty – the view from your suite is a UNESCO World Heritage Site. Individual bridges lead to the resort's stunning open-walled guest sanctuaries. In each of the 24 sanctuaries, bedroom, living area and an extravagant private infinity pool glide into one another to form extraordinary platforms floating out into nature. With the fourth wall entirely absent, Jade Mountain's sanctuaries are stage-like settings from which to embrace Saint Lucia's scenic splendor..