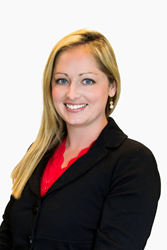 I am confident that I can deliver new and innovative strategies that will exceed our Local Service Partner's expectations.
JACKSONVILLE, FL (PRWEB) July 09, 2015
(JULY 9, 2015) — 1-800-BOARDUP announced a major expansion and change in senior management today. Founder and current President Michael Hosto will pass the reigns to Beth Toenies as successor.
1-800-BOARDUP is a network of franchises across North America which prides itself on being the best trained disaster responders. Although 1-800-BOARDUP is a for-profit enterprise, their true success is measured by their ability to effectively help those in need through their unwavering commitment to their core mission and values. Based in St. Louis, MO, the company is ready to expand and grow even more. Hosto believes that Toenies is just the person for the job.
Formerly the Vice President of Marketing & Process, Beth Toenies implemented new sales and marketing tactics and also served as the manager of operations. Hosto said, "I feel privileged to have someone of her caliber working with us. Beth has shown the ability to bring us to the next level. For our Local Service Partners, it will be a smooth transition, since she is well respected and very knowledgeable about our market trends. For our employees, I believe they will welcome the energy, enthusiasm, accountability, and continue the team building she has already accomplished in her previous roles." 
Toenies says that she is thrilled and honored to be chosen as the new President of 1-800-BOARDUP. She understands her responsibility and has been President of another small company before—after she grew up the ranks at ICE-TECH Advanced Lens Technologies three years prior. "After spending the past year and a half at 1-800-BOARDUP working in nearly every phase of the business, most recently as Vice President of Marketing and Process, I am confident that I can deliver new and innovative strategies that will exceed our Local Service Partner's expectations." 
Her expanded duties regarding the overall management of the financial and personnel side of the business will be a fresh and exciting challenge for her. Hosto, the Founder of 1-800-BOARDUP, will remain the Director of Culture and Leadership, and shift his focus to developing new opportunities and serve as her advisor whenever she needs it. Toenies says "I look forward to working closely with Michael [Hosto] during this transition, and will continue to draw from his business expertise as well as that of the Leadership Team, to keep 1-800-BOARDUP as an innovator in its market."
1-800-BOARDUP is a values-focused organization that provides comprehensive recovery services to fire victims in need. While each office is independently owned and operated, 1-800-BOARDUP is the largest franchise company that specializes in emergency response services for disasters.
http://www.1-800boardup.com