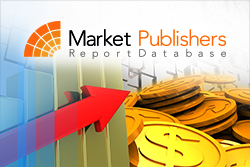 London, UK (PRWEB) July 08, 2015
China's automobile sector is fast gaining traction. The market size grew rapidly in the recent past, with a CAGR exceeding 25%. The national car ownership increased by 14.2% YoY, reaching the 144.75 million mark by the end of the year 2014. The annual transaction volume of the domestic automobile aftermarket was close to USD 111.07 billion in 2014.
Owing to the current structure and needs of the automobile industry, the automobile rental, care & beauty, financial services, and other market segments are largely in need. The Chinese automobile aftermarket is projected to be worth around USD 160.97 billion in 2016 and further is likely to approach a value of close to USD 396 billion by end-2020.
Topical research study "Outlook on Chinese and Global Automobile Aftermarket2015-2020Proposal" developed by ASKCI Consulting is now available at MarketPublishers.com.
Report Details:
Title: Outlook on Chinese and Global Automobile Aftermarket2015-2020Proposal
Published: June, 2015
Price: US$ 3,500.00
https://marketpublishers.com/report/machinery/auto_parts/outlook-on-chinese-n-global-automobile-aftermarket-2015-2020.html
The report provides an in-depth overview of the automobile aftermarket market industry worldwide and across China during 2009-2014, presenting a detailed analysis of the development environment, major trends, sales channels, etc. The study provides a comprehensive analysis of the market by key segments, offers an up-close look at the market across the 6 major regions in China, canvasses major technology advancements, and thoroughly investigates the competitive landscape. It identifies and examines the top market players in the automobile aftermarket industry, detailing their services, performance, sales networks, and competitive advantages over rivals. The future outlook to 2020 for the market is provided in the study as well.
Report Topics:

In-depth overview of the Chinese automobile aftermarket.
Review of the national automobile repair and maintenance market.
Insights into China's automobile financial services sector.
Analysis of the world and Chinese automobile electronics market.
Investigation of the domestic automobile maintenance market.
Global and Chinese repair market.
Investigation of the car rental and used car marketplace.
Detailed regional analysis of the automobile aftermarket in China.
Examination of the competition in China's automobile aftermarket industry.
Analysis of the leading companies.
Overview of key investment opportunities and prospective development of the market.
More studies by the publisher can be found at ASKCI Consulting page.