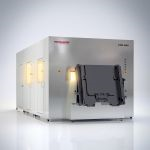 Latest orders by four major corporations provide a strong testimony of VPG's outstanding performance and reliability at a low cost of ownership," Stated Alexander Forozan, Head of Global Sales and Business Development
Heidelberg, Baden Wurttemberg (PRWEB) July 10, 2015
Heidelberg Instruments, a leader in design, development and production of laser lithography systems, announced orders for four VPG Maskless Lithography systems from multiple production facilities.
Three systems will be used in production of medium and large area photomasks, intended for a variety of applications including touch panel as well as wafer level packaging. The fourth system will be used for direct wafer exposure.
"In the last few years, the VPG technology has become the dominant technology for production of medium to large area photomasks. Latest orders by four major corporations provide a strong testimony of VPG's outstanding performance and reliability at a low cost of ownership," Stated Alexander Forozan, Head of Global Sales and Business Development, Heidelberg Instruments.
About Heidelberg Instruments, GmbH: With an installation base of over 600 systems in more than 50 countries, Heidelberg Instruments Mikrotechnik GmbH is a world leader in production of high precision maskless lithography systems. Due to their flexibility, these systems are used in research, development and industrial applications for direct writing and photomask production by some of the most prestigious universities and industry leaders in the areas of MEMS, BioMEMS, Nano Technology, ASICS, TFT, Plasma Displays, Micro Optics, and many other related applications.