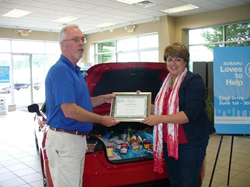 AKRON, OH (PRWEB) July 09, 2015
Last week, Subaru- Cascade Auto Group in Cuyahoga Falls donated 75 pounds of groceries to Mature Services Nutrition Program to be used to prepare and deliver home-delivered meals to clients.
"We appreciate the collaboration with Subaru to eliminate hunger for seniors in Summit County," said Karen Hrdlicka, President & Chief Executive Officer of Mature Services, Inc. "We value a partnership like this not only for the support, but also the attention it brings to the issue of hunger among older adults," she added.
The Nutrition Program offers home delivered and congregate meals programs, as well as an Emergency Food Pantry. The goal is to provide food and sustenance to older adults in Summit County who might otherwise go hungry. According to Feeding America's Senior Hunger Fact Sheet, "In 2013, 2.9 million households with seniors experienced food insecurity."
Each month, Subaru picks a project to help people in the local community through their "The Love Promise" program. Last month, realizing that hunger is a very large problem across the country, they chose to focus on providing food to those in need, and ran a food drive from June 1st-30th.
David W. Hurte, Subaru Brand Manager at Cascade Auto Group in Cuyahoga Falls stated, "We were absolutely happy to do it and are glad to be doing our part to battle hunger."
Mature Services also offer other services including homecare, alcohol, substance abuse and gambling treatment and prevention, mental health counseling, job training, volunteer opportunities. Information on all of these programs can be accessed from http://www.matureservices.org. Mature Services, Inc. is an equal opportunity employer and service provider.