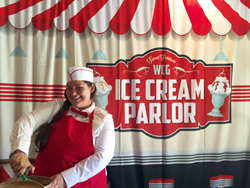 Our inviting hotels and cool atriums are the perfect place to enjoy great value while creating great memories. -Tom Pugh, General Manager of the Embassy Suites Santa Ana / Orange County Airport North
(PRWEB) July 09, 2015
WCG Hotels eight Embassy Suites by Hilton successfully launched their 1st annual WCG Ice Cream Parlor this summer and are now serving delicious ice cream sundaes complimentary to those guests who booked the "Suite Summer Sunday Package". The Embassy Suites Convention Center Las Vegas, Alpharetta (Atlanta) and six California locations - Lompoc, Temecula, San Luis Obispo, Brea, Arcadia, and Embassy Suites Santa Ana / Orange County Airport North hotels are all participating in this fun Sunday Night Event throughout the summer. The simulated retro Ice Cream Parlors are set up near the hotel's complimentary evening reception area or restaurant on Sunday nights creating an interactive and fun experience for families.
For those travelers that include a Sunday night stay in a market where one of eight WCG Hotels Embassy Suites by Hilton hotels are located – this creative, value-filled package will be sure to please all thrifty travelers looking for quality accommodations, especially families with kids. The "Suite Summer Sunday Package" includes Embassy Suites by Hilton's signature pillars; spacious two-room suites, complimentary full cooked-to-order breakfast, evening beverages & snacks. In addition enjoy complimentary Internet, Late Checkout (2pm), and to top it off, free sundaes on Sunday night for everyone registered in the suite at our WCG Ice Cream Parlor. "Sundays are an important vacation travel day for families and we are excited to offer a family-friendly value-add package to an already incredible Embassy Suites by Hilton experience on Sunday Evenings," said Paul Francisco, COO of WCG Hotels, (aka Windsor Capital Group, Inc.). "Embassy Suites by Hilton is the perfect choice for today's savvy traveling family – moms and dads really enjoy the fact that the room has two separate sleeping areas, each with a TV where the kids have their own entertainment and bedtime while the parents have theirs. Add to that the made-to-order breakfast, free evening reception with drinks/snacks and handmade custom ice cream sundaes on Sunday night for everyone registered in the room along with the flexibility of a 2 PM late checkout on your final day and you have a deal that just can't be beat!"
In addition to our great "Suite Summer Sunday" package where complimentary sundaes are included, we also have delicious Ice Cream Sundaes available for purchase on Sunday evening for those that may not have booked the room package for only $5 per person. Our WCG Ice Cream Parlors are open every Sunday between 6:30pm – 8:30pm through Labor Day. Numerous creative toppings and traditional items such as whip cream, cherries and nuts are all in the mix! Join us for fun 50's style theme music and fun – coloring, traditional soda jerk hats for kids as well as trivia for all! Many locations are also serving discounted drink specials as well as items such as pizza by the slice and tasty appetizers. Tom Pugh, General Manager of the Embassy Suites Santa Ana / Orange County Airport North says it best, "ice cream appeals to everyone, young and old. Nothing reminds us more of summertime fun than enjoying an ice cream sundae with friends and family. Our inviting hotels and cool atriums are the perfect place to enjoy great value while creating great memories." For more information, visit: http://www.wcghotels.com/suitesundays
#
ABOUT WINDSOR CAPITAL GROUP
Windsor Capital Group is a hotel management and development company that owns and operates full-service, upscale branded hotels throughout the United States flying the Embassy Suites and Marriott flags. It also runs Windsor Management Services, a top-performing hotel management company that customizes hotel management services to meet the needs of the third party hotel asset and convention center owners.
Windsor Management Services is an award winning, comprehensive hospitality management organization that operates full-service, upscale hotel properties throughout the United States. With more than 40 years of experience to call on, Windsor Management Services is known for unmatched results for its owners and unparalleled service for its guests delivered with a personal connection. For more information visit http://www.WindsorManagementServices.com or http://www.WCGHotels.com. Connect with WCG Hotels on Facebook (http://www.facebook.com/WCGHotels) and Twitter @WCGHotels. Additionally, please contact Paul Francisco, COO at 814-880-0514.
# # #