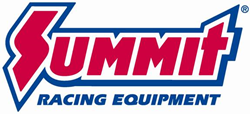 Tallmadge, OH (PRWEB) July 10, 2015
Looking for some good air tools at an affordable price? Summit Racing now offers Performance Tool Air Tools that are ideal for home shop use and won't cost users an arm, leg, or kidney. The tools are also a good choice for outfitting a race trailer or taking along off-road if there is an onboard air source.
Here's a sample of the Performance Tool air tools available:
Heavy Duty Air Hammer
This air hammer is ideal for rivet removal, panel cutting, or knocking out spot welds. The air hammer features a quick-change spring safety retainer and built-in air regulator for precise speed control. Five heat-treated air chisels are included—flat, round, spot weld breaker, tapered punch, and rivet cutter. Air requirement: 90 psi. Air consumption: 4.8 cfm.
Six Inch Dual Action Sander
A D/A sander is a must for paint prep and bodywork. This sander accepts standard six inch sanding pads and has a built-in air regulator to regulate pad speed for optimum results. Air requirement: 90 psi. Air consumption: 5 cfm.
3/8 Inch Drive Air Ratchet
This ratchet uses common 3/8 inch drive sockets and provides 10 to 50 foot-pounds of torque for removing or installing light-duty fasteners. It is reversible and has a variable throttle control. Air requirement: 90 psi. Air consumption: 4 cfm.
Angle Head Die Grinder
This 1/4 inch drive grinder is ideal for detail and finish metal work. It has a 90 degree angle head to get into hard-to-reach areas, and a 20,000 rpm maximum speed. Air requirement: 90 psi. Air consumption: 4 cfm.
Reciprocating Body Saw
This Performance Tool reciprocating air body saw zips through aluminum, plastic, fiberglass, and sheetmetal up to 16 gauge. It has a slim design for working in confined areas, plus positive blade retention with an adjustable blade guide to set cutting depth and increase blade life. Air Requirement: 90 psi. Air consumption: 6 cfm.
Summit Racing also carries Performance Tool air nibblers, metal shears, cut-off tools, drills, angle grinders, even riveters and grease guns.
Summit Racing Equipment
http://www.SummitRacing.com
1-800-230-3030