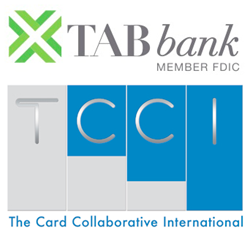 TAB Bank is the kind of conservative, yet forward-thinking, issuing bank that TCCI needs to fully execute its business model and excel in the Prepaid space - Shawn P. Carden, President, TCCI
Orlando, Florida (PRWEB) July 27, 2015
The Card Collaborative International, LLC (TCCI) is pleased to announce it has finalized a five-year Prepaid Card Servicing Agreement with TAB Bank (TAB) effective July 6, 2015. The Prepaid Card Servicing Agreement with TAB Bank will serve as the foundation for TCCI's highly progressive shared services business model which will bring qualified, intuitive Prepaid Card products to the marketplace - for a fraction of the normal capital requirement and in far less time than would normally be possible.
According to Shawn Carden, President of TCCI: "TAB Bank is the kind of conservative, yet forward-thinking, issuing bank that TCCI needs to fully execute its business model and excel in the Prepaid space." He goes on to say, "The Operations and Compliance teams of TAB Bank and TCCI collectively represent a depth of experience and knowledge not always available in the Prepaid industry. There is a sense of mutual respect and teamwork that will both support, and drive, the success of TCCI and its member organizations."
TCCI is a shared services organization that offers its member companies a highly skilled, knowledgeable, back office organization that manages compliance, settlement, risk, project management, and vendor relationships. Member companies also enjoy massive cost savings by sharing the basic costs of program management. These costs include back office expenses, issuing bank minimums, processor minimums, call center minimums, as well as all related implementation fees. TCCI's structure allows members to achieve economies of scale quickly thus reducing each member's break-even point and time to profitability.
TAB Bank, the dba name for Transportation Alliance Bank Inc., was established as an Industrial Loan Corporation (ILC) in 1998. TAB Bank is a wholly owned subsidiary of FJ Management Inc. Originally formed to provide financial services to the transportation industry, today TAB Bank provides working capital facilities, equipment financing and deposit products to a variety of business sectors while continuing to build on success within the transportation industry.
For more information contact:
TAB Bank
Cort Christensen
Vice-President, Business Banking
801.624.5789 Direct
cort(dot)christensen(at)tabbank(dot)com
http://www.tabbank.com
The Card Collaborative International, LLC
Shawn P. Carden
President
800.470.2090 ext. 101
scarden(at)tccipayments(dot)com
http://www.tccipayments.com