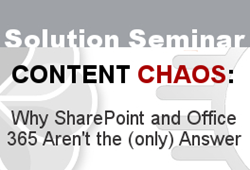 Boulder, CO (PRWEB) July 13, 2015
Zia Consulting, Inc., the leading provider of Enterprise Content Management (ECM) and Intelligent Document Capture solutions, has added three dates to their popular roadshow with events in Houston, Austin, and San Antonio featuring their Adhere for Alfresco solution. Each of these complimentary lunchtime events will discuss enterprise solutions for SharePoint integration and synchronization, governance, federated search, workflow, and content security.
According to Mike Mahon, CEO of Zia Consulting, "When Microsoft launched SharePoint, it was made for simply sharing documents within departments. Now, a lot of companies are trying to use it as their primary content management solution—their system of record—even though it was never designed for this." The purpose of Adhere for Alfresco is to optimize a company's existing SharePoint deployment by integrating with Alfresco to make a managed and secure ECM.
A recent ECM market study by the Association for Information and Image Management (AIIM) found that 93% of respondents use SharePoint in some manner within their organization. While more than 75% still have a "strong commitment" to it, only 11% of these organizations see their deployment as a success. The leading concern is around the lack of true information governance capabilities within SharePoint making it a challenge to address compliance and security concerns. Significant issues also remain around utilizing SharePoint for workflow/business processes or case management tasks. Leaders often experience confusion around how to leverage SharePoint Online and Office 365—whether as a standalone or hybrid model—further contributing to this content chaos.
Each seminar will discuss these prevalent issues around SharePoint. They will also identify ways companies can implement solutions to ensure user adoption and maximize automation—throughout the integration with their existing SharePoint deployment.
Event information and registration pages are below:
Houston on July 21, 2015 at the RDG + Bar Annie from 11:00 AM – 2:00 PM. Register here.
San Antonio on July 22, 2015 at Kirby's Steakhouse from 11:00 AM – 2:00 PM. Register here.
Austin on July 23, 2015 at North by Northwest Restaurant & Brewery from 11:00 AM – 2:00 PM. Register here.
Zia Consulting delivers Enterprise Content Management (ECM) solutions that address the content chaos needs of your enterprise to better manage and secure the most important documents. As the leading partners for Alfresco and Ephesoft, we bring start-to-finish guidance and customization based on your organization's needs. Our Adhere solution focuses on solving SharePoint and shared drives by identifying and classifying critical content, integrating ECM platforms, streamlining business processes, and then delivering content security, information governance, and federated search. Our Accelerate solution targets the costly and complex document processing tasks that exist from mortgage, insurance, government, and more. It provides case management, automated classification and extraction, BPM/Workflow, and enterprise integration, to deliver a rapid ROI.