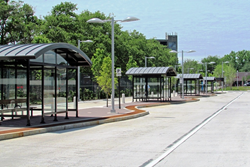 "it was obvious that Duo-Gard's shelters were superior in quality, packaging and installation support, including training for us. Duo-Gard made sure our needs – every one – were met."
Canton, Michigan (PRWEB) July 15, 2015
Following recommendations from a 1997 study, the Connecticut Department of Transportation embarked on a bus rapid transit plan to serve the current and projected high growth, high traffic corridor between New Britain and Hartford. In late March 2015, the state's first BRT system, named CTfastrak, opened for service.
This state joins the growing trend toward the flexibility, convenience and cost effectiveness of BRT. Across the country, 19 cities with BRT are listed by the National Bus Rapid Transit Institute. Constructed along an abandoned railroad, CTfastrak includes 9.4 miles of dedicated service between the two major downtown areas.
CTfastrak's ten stations feature 22 transit shelters engineered by Duo-Gard. The shelters provide not only protection for riders, but also architectural appeal that enhances the stations' design. "During the design phase of this project, we were looking for a quick, cost-effective solution," says David Ferraro, CTDOT's construction project engineer. "Duo-Gard shelters provided our contractor, Lawrence Brunoli Inc., with an easy-to-procure-and-install option that did not impact our aggressive schedule. We used Duo-Gard as the basis of our design. Duo-Gard provided a product that was unique and met all our requirements for performance, durability and aesthetics."
The shelters' aesthetic appeal was an important aspect. Ferraro says CTDOT was looking for shelters to complement the modern appearance and style of the stations and chose not to settle for tradition. In two sizes of 9'6"x20' or 11'6"x20', the CTfastrak shelters integrate laminated tempered glass sidewalls with a powder-coat-painted black frame and a standing seam, reverse barrel vault roof of solid zinc, which was chosen for aesthetics, weatherability and a 50-year warranty. Ferraro says the unusual, contemporary style adds to the visual appeal.
Aesthetics is only part of the story, however. Ferraro says the timeline for this entire project was extremely aggressive. With major funding by the Federal Transportation Authority's New Starts program, it involved 15 separate contracts with specific completion dates. Failure would jeopardize the funding.
"They were the most aggressive and challenging projects I have worked on thus far in my 25-year career," says Ferraro. "For the shelter phase, Duo-Gard helped by making it easy for our general contractor to work with them."
With 10 stations and separate completion dates, coordinating the manufacture and distribution of 22 shelters for this complex project was an enormous challenge, according to Dan Neagle, vice president and owner of general contractor Lawrence Brunoli Inc. "When we ordered, we had to forecast when the station would be done and what type of shelter we would need. The packaging and transporting had to be coordinated effectively," he adds.
Close collaboration with Duo-Gard was imperative, and Neagle gives the Duo-Gard team high marks. "In every single instance, materials showed up as needed, with no parts or pieces missing," Neagle says. "Duo-Gard did what they said they were going to." He says when the first shelters were delivered, he investigated other manufacturers and "it was obvious that Duo-Gard's shelters were superior in quality, packaging and installation support, including training for us. Duo-Gard made sure our needs – every one – were met."
Apparently the collaboration paid off. "Everyone from our team including architects, engineers and contractors loves the shelters," says Ferraro. "We have received many compliments from the public on how much they like the shelters compared to other shelters throughout the community.
"We have had numerous contacts asking us for information about the Duo-Gard shelters. I am glad we chose these shelters rather than a more traditional approach. I have recommended Duo-Gard to other design teams and managers, and I will continue to in the future."