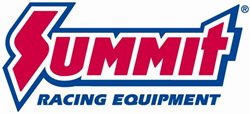 Tallmadge, OH (PRWEB) July 14, 2015
Chosen by Mike Mavrigian at Birchwood Automotive, these Street Hero Mopar 499 Parts Combos contain the basic building blocks to allow enthusiasts to build a street thumpin' Mopar capable of making 657 horsepower and 642 lbs.-ft. of torque.
Short Block Combo
The 499 is based on a 400 cubic inch block with a 0.035 inch overbore. Mike Mavrigian filled it with a Scat/JE forged rotating assembly to get 499 cubic inches (4.150 inch stroke, 4.375 inch bore diameter). Other good things include Clevite and Dura-Bond bearings, a Mopar Performance .509 inch lift hydraulic cam kit, ARP main studs, and a Fluidampr harmonic damper.
Oiling System Combo
The 499's oiling system is based on a Moroso center-sump steel oil pan with a Mopar Performance windage tray. Mike Mavrigian blueprinted a Melling high pressure/standard volume oil pump to improve reliability, and sealed everything with a Mr. Gasket oil pan gasket.
Cylinder Heads and Valvetrain Combo
Mike Mavrigian went with a set of Edlebrock Performer RPM aluminum cylinder heads for the 499. He topped the assembled heads with a set of Crane 1.5 ratio roller rocker arms on Mopar Performance rocker arm shafts, then covered the assemblies with a set of Summit Racing valve covers.
Induction and Fuel System Combo
The 499 was originally dyno-tested with a 900 cfm carburetor, but theHolley Terminator EFI system made the best power numbers. The Terminator throttle body sits on a Weiand Team G intake manifold and is fed by an Aeromotive A1000 electric fuel pump.
Ignition System Combo
The 499 is outfitted with an MSD Flying Magnet crank trigger, Pro-Billet distributor, 6AL ignition box, and Super Conductor wires, plus a set of NGK V-Power spark plugs.
Completer Combo
This combo has many of the additional parts used to button up the 499—Meziere electric water pump, ARP fasteners, gaskets from Fel-Pro, Moroso, and Mopar Performance, and a Summit Racing timing cover.
See how the engine went together in the four-part Mopar Street Hero article series at OnAllCylinders—there are tons of valuable assembly tips to help with an engine build:
Summit Racing Equipment
http://www.SummitRacing.com
1-800-230-3030